On a different forum a poster had made a very interesting post about shooting his Traditions Woodsman Hawkins Flintlock at 50 yards with 80 grains of black powder and a .430 diameter 240 grain Hornady XTP and a Harvester Crushed Rib sabot. And he was getting some impressive groups. I later discovered our rifles are not the same. His is percussion and mine is a flintlock. Oh well, my loss.
I decided to try the same thing today. I used my Traditions Woodsmans Hawkins which also has a 1-48 twist (my other Woodsman has a 1-66 twist), and is a flintlock. The powder I used was Graf's & sons 2f black powder. I also got out my supply of .430 Hornady 240 grain XTPs and some crushed rib sabots.
I set the target out at 50 yards. I held a six o'clock hold on the bottom of the black tape.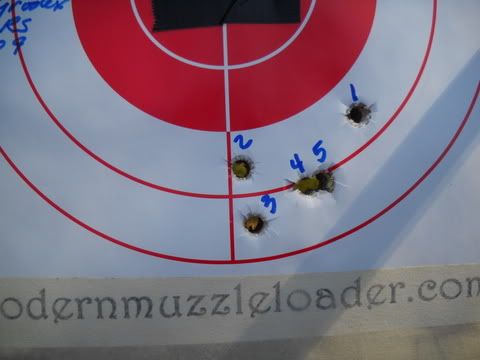 Shot #1 on a clean barrel did not alarm me too much. The next four actually grouped pretty good. This was with 80 grains and I was swabbing the bore between shots with isopropyl alcohol. The only thing that had me scratching my head was how low the shots were hitting.
So I swabbed the bore of the rifle clean and then loaded 85 grains of powder and a .490 roundball. I was using moosemilk as a patch lube. And I was under the impression that holding under the edge of that black tape that the rifle would load the black tape with roundball hits.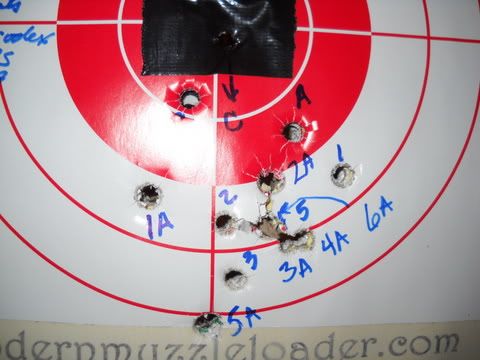 It basically loaded the round balls into the same place as the 80 grains of powder and 240 grain XTPs hit. In fact the roundball which normally group real well were beat out by the 240 xtp in group size.
This was one of them cases where with this rifle I had a lot of faith in where it would hit. I guess this has changed. Now granted I have moved on to a new jug of powder, and I was shooting store purchased roundball instead of my usual home cast roundball. But them hitting low surprised me.
So I swabbed the bore clean and decided to try the XTPs with 85 grains of powder. I also moved my POA to the top of the black tape. As you can see it shot two just under the tape and so I raised up even more and it hit the tape on the third shot. A-C
I would have shot more, but was running out of time. Almost time for the Packer kick off... __________________
"Life should NOT be a journey to the grave with the intention of arriving safely in an attractive and well preserved body, but rather to skid in sideways, a total wreck, screaming Yahoo, with a big smile on your face."