I was looking over the collection of rifles today and trying to determine which one needed a little more range time to make it ready to hunt. I was pleased with the little 21 inch carbine from Green Mountain Barrel Co but thought it could do better. So I picked that rifle to try some new things.

Rifle: T/C Hawkins stock flintlock
Barrel: 21 inch .50 caliber Green Mountain Barrel with 1-28 twist
Powder: Goex 3f for main charge and 4f for primer
Projectiles: 300 grain .452 Shockwaves in a a MMP HPH 24 sabot
with 80 grains of powder. And a 240 grain .430 diameter Hornady XTP in a green Harvester Crushed Rib sabot with 70 grains of powder.
Flint: French Amber Flint
Distance: all shots at 50 yards
Weather: breezy at times, 53 degrees Sunny

When I checked the last range photos for this rifle, I was not totally pleased with the results. Granted I was shooting at that time 85 grains of powder. So I got to thinking.. perhaps with this short barrel, a smaller charge would work better.

I took the rifle out and decided on 80 grains of Goex 3f for the 300 grain Shockwaves to start the ball rolling. I was swabbing between shots with Windex Generic from the dollar store.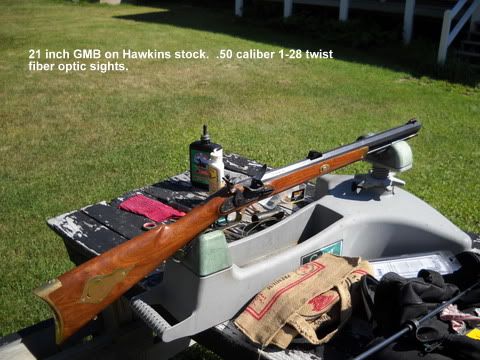 This is going to be my stalking rifle and maybe a tree rifle. But mostly a carry around rifle on the property where shots are 50 yards and under. The rifle has fiber optic sights, which I admit are not a favorite of mine.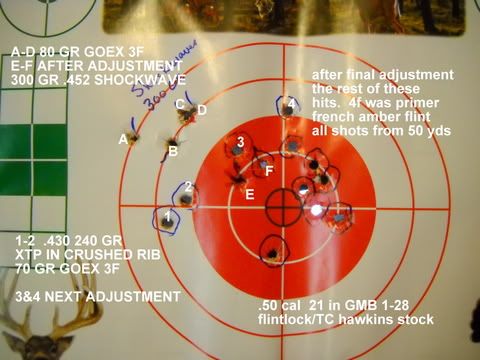 I started with the Shockwaves and fired A-D. While the group was not all that bad, I knew the sights needed adjustment if I were going to hunt with this rifle. So I made an adjustment. Since I was down to two of the Shockwaves left I decided to save them and use some of the 240 grain Hornady XTP's .430 diameter .44 caliber in a green harvester crushed rib sabot. I also lowered the powder charge even more ... to 70 grains to see if that made a difference at all.

My first two shot should be lower then the group of the shockwaves ... which it was. That would be # 1&2. So I adjusted the sight to the right and shot 3&4. Why they hit higher.. who knows. Its a muzzleloader.

I then decided to try the Shockwaves with 70 grains of powder and shot E&F and again.. a little more to the right, but not as low as I thought it would be.

So I made one more sight adjustment, moving the sight even more to the right and then started shooting. I know it was a little too much, but then it is not all that bad for 50 yards. And the wind was gusting left to right a little. So I figured to leave it and then try it on a day it was not so windy.

So the rest of the group was pretty good IMO for open sights and 50 yards. I know 70 grains of powder does not seem like a lot, but I personally think at close range that it will work just fine. I have no idea of the velocity of the load, but it should still be able to open that XTP up I am guessing.

The Harvester Crushed Rib sabots and the XTP's load like a dream. No short starter needed to get it going.. just push them in and use the ramrod. Also this French Amber Flint is new. And the ignition was amazing. Although towards the end the vent hole was getting a little plugged and I had a few fizzles in the pan with no boom. So I'd pick the vent and then trail the primer powder away from the vent and then it would go off just fine.

This short rifle will be nice to carry and seeing the kind of shots I will face with it should be some bad deer medicine.