Today I decided to shoot the Lyman Great Plains Hunter more. I know the rifle shoots really low. I just am not ready to shave the front site. But I wanted to try some new projectiles and new powder.

Rifle: Lyman .50 caliber Great Plains Hunter 1-32 twist Flintlock
Powder: Schuetzen 2f Black Powder 80 grains 4f primer
Projectiles: 295 gr copper hollow point Powerbelts
405 gr Remington .458 flat lead point orange Knight sabot
375 gr Buffalo Bullet SSB in supplied sabot MPH 24
Distance: 35 yards
Weather: Sunny and very windy
Swab: Swabbed between each shot. I used Dollar Store Windex

I decided to start out with the Remington .458 diameter flat point bullets. They are made for a 45/70 I believe. I cast the same bullet but in pure lead. So I was interested in how this heavy bullet would do.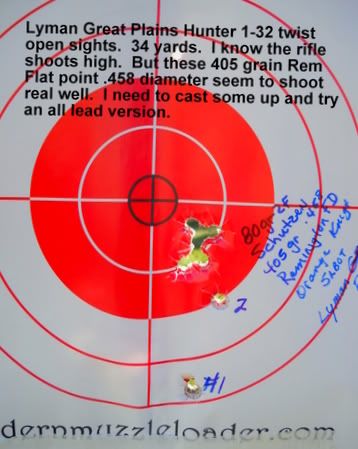 Having forgot how low this rifle shot, it took me two shots to figure out the drop. After that I picked a spot off the bulls eye and let fly. Over all this would be a good hunting bullet if the accuracy holds out to 100 yards. 35 yards is hardly a test for a bullet. But it is all I felt like walking today.

I then swabbed the bore clean and next up were the 295 gr Powerbelts. From shooting these before I knew they were accurate. Just how accurate at this distance is amazing. Granted the clean barrel or me might have throw the first one.. that being out of the group. But after that, if I set the little red dot on the front sight.. it just laid them in real nice.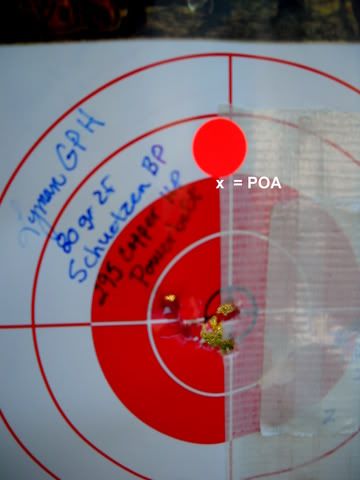 I am determined to give these powerbelts a chance at hunting this year. I understand that a lot of people have had bad experiences with them. But I see no reason why with 80 grains of 2f powder, that bullet would not put a deer down right now.

I again swabbed the bore clean. Now I broke out the 375 grain Buffalo Bullet SSB. These are pure lead and hollow point. I have shot a lot of these and normally they are pretty accurate.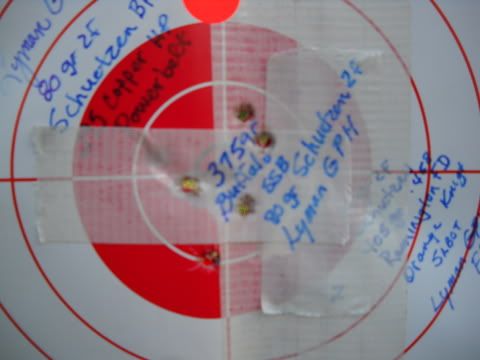 These did not shoot as tight a group as the others, but I am wondering if they need more powder under them. Maybe some further testing will be needed. Also I have to adjust the POI for this rifle before season.

The agate I was shooting was terrible today. Misfires, no fires, hang fires... it just was not throwing spark like it should. I was careful to keep the nose clean, and the frizzen clean. But I finally wondered why would this new agate act so bad... So I installed a Thomas Fuller Black English Flint in the jaw and all the problems disappeared. Ignition after that was perfect. The agate got a new home.. in my driveway.

Over all it was a lot of fun, even though the target was moving in and out and up and down with the wind. But then.. we don't hunt in perfect conditions do we? So it was a little added challenge for the flintlock and me. Now it boils down to adjusting where this rifle hits.. then it will be ready for the deer blind.