Today was a excellent fall day. In the 40's so it was not cold. The wind was light from left to right. Overcast so no sun in your eyes. I just had to shoot today. I decided to try out the Black Mountain Magnum .50 caliber. Made by Thompson Center Arms, the Black Mountain Magnum .50 caliber sports a musket cap ignition. It has a claim that this rifle is a true magnum and can shoot pellets if you wish. The rifle sports a 26 inch barrel with a 1-28 twist. Mine is the blued/black model with a simple 4x32mm Simmons Pro Sport ($19.99 I made a mistake when ordering the Pro Diamond model scope) and so you shouldn't expect too much out of the rifle.

My note card said the rifle is sighted in at 50 yards. That's fine for what I have planned for this rifle. I swabbed the bore of the 26 inch barrel with isopropyl alcohol and decided to use that as a swab today also. After checking the fire channel I was well pleased with the patch burn it shows. So out to the range.

I took along a new pack of 260 grain Harvester Scorpion Funnel Nose hollow points in black Harvester Crushed Rib sabots. For powder, I have been playing with the new Schuetzen 2f Black Powder I recently purchased. So far I have been real happy with it. I also took some 460 grain Bull Shop .504 conical bullets to try. Now remember, this rifle has a QLA in the barrel. Not something a lot of you are crazy about.

I wanted to start with the sabots. So I then looked at the shooting card and it said 90-110 2f powder. So I decided to start with 90 grains of 2f Schuetzen black powder.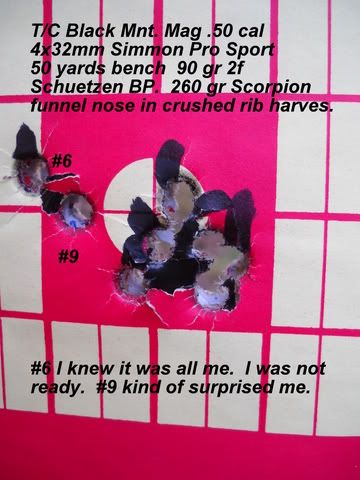 This is ten shots total. #6 I knew I was not set when I touched that trigger and the rifle showed I was right. #9 kind of surprised me because that was by all indications fine. But I was real pleased with the way the rifle shot these Scorpions.




When I tried to shoot the conicals, I had real problems. This must be a tight bore. I could hardly get the conicals down the bore. In fact after the second one.. hey! I don't need to be told twice. Wow they were impossible to load.

Surprising was the harvester crushed rib sabots and the Scorpion bulets. While I did not need a short starter because of the QLA they still loaded nice and firm and sat nice and firm on the powder charge. I think this will make a good hunting load.

Overall I am real happy with this rifle and its inexpensive scope...

On a side note, I was out for a walk today and came on a nice deer track. And I followed the track through the fresh dirt to of all places... 35 yards from the back door of the house.




Now we got down to 24 degrees last night and that bad boy still sunk in the dirt when it started to warm up or last night before it hardened over. I do hope I run into what ever made that track again... say in a couple weeks.