A very good friend of mine called a few weeks back and told me that he wanted to ask a huge favor. Of course I told him to ask away. He then explained that he had a large buck that he'd been after and that if he did not get it rifle season, he wanted to keep trying muzzleloader season. But one small problem. While he's shot my muzzleloaders, he's never purchased one. So the favor was to borrow a rifle.

I then questioned him about the conditions he would be shooting, and he explained were on his farm he was hunting (I'd hunted that farm numerous times, even the stand he was going to use) . I told his his shots would be close, but quick, so he needed a short accurate rifle. He agreed.

So I mailed his a Knight LK-II. The Knight has a Simmons 2.5x20mm scope. #11 ignition. And a 22 inch barrel. Its short, easy to swing, accurate, and should fit the bill. I also sent him some .430 240 grain Hornady XTPs and some Green Harvester Sabots. I advised him to get a pound of powder in town and a box of caps and try the thing out first. I told him that the rifle had a sweet load of 85 grain of powder. I sent him instructions on how to clean it, prep it, every thing. Even a spare powder measure he could use, and a short starter.

He called me before muzzleloading season and said he had not got a chance to fire it, but was sure it would be fine. And that he'd bought some Triple Seven powder and CCI magnum caps. I had told him Pyrodex RS but the man at the store assured him that Triple Seven was a better powder.

To shorten this.. he never saw the buck he wanted the entire season. He settled on the last day for a 4 pointer at 30 yards. He said he pulled the trigger and it knocked the buck flat. He'd loaded one bullet the entire season and fired one time. He cleaned the rifle spotless l might add and mailed it back with a nice thank you note. And some items I will not go into.

My friend bragged to me that the scope was set perfect and that where he had put the cross-hairs was where that Hornady hit. He said the internal damage from that little rifle was very very impressive. And it fired perfect.

So instead of putting the rifle back on the shelf.. I took a pound of Triple Seven 2f, I had recently obtained.. and the returned sabots and bullets. Made up a new target and set it at 52 yards (where the prints in the snow are) and then fired.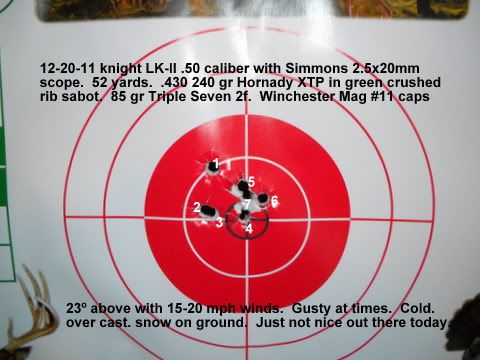 I had to admit, that 85 grains of Triple Seven 2f did pretty good. I guess I could understand why he felt the rifle so accurate and lethal. As he bragged that the deer never took a step after he squeezed off the trigger.

In my case all was going fine until shot #8. I had swabbed as usual, loaded as usual, capped it, and squeezed it off. The cap fired but no BOOM.. I thought.. I was sure I had loaded that rifle. Capped it again, and like before the cap fired but NO BOOM.

Of couse by this time you start to doubt yourself, but I was positive I had loaded powder and projectile. The ramrod even indicated it was load. So I got out a trusty guitar string and picked the nipple good. Capped it, and the cap fired but no BOOM. Now I was not so sure, but I capped it again, and the same results.. NO BOOM.

So into the house and called it quits. Besides it was COLD out there. That wind was just raw. But I did have fun shooting to be honest.

Pulled the barrel, pulled the bolt, pulled the nipple, pulled the breech plug, and out fell a lot of powder. Ramrod pushed out a projectile as well. Looked through the breech plug and it was clean as a whistle. Blew through the nipple and could hear air. The only thing I found different was two spent caps stuck in the nose of the bolt. But the caps on the nipple were going off. So why this load did not fire. NO idea.

Its amazing how that little 2.5x20mm scope can help you focus at 50 yards and shoot that well. I mean granted they are not in the same hole.. but minute of deer would have been a dead critter if you know what I mean.

I will have to try this rifle again soon and see if I will fail me again.