I've now put close to 1200 rounds through the Sig Sauer. Not one failed to feed. I have had three fail to fire. But those rounds failed to fire out of my Taurus Revolver as well. I think they were just bad rounds.
Since buying the Sig Sauer, I have put a red dot on it. While accurate and fun to shoot that was not doing it for me. So I put a Nikon 1x20mm scope on it. Wow!! what a difference. Deadly accurate.. and just a rock solid rifle.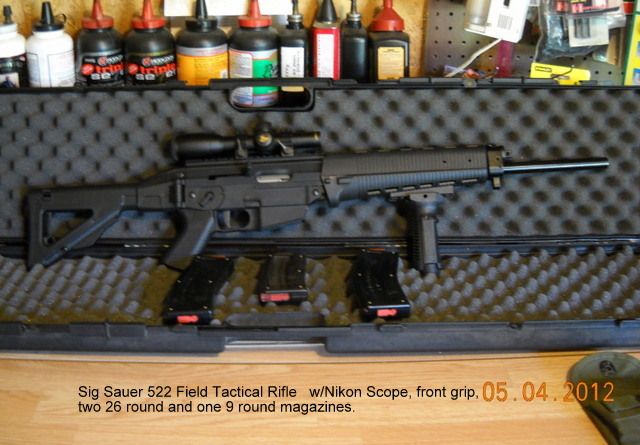 I have ordered a BSA 4x30mm Tactical rifle scope with a mil-dot cross hair. On the recommendation of a person who's opinion I greatly respect. That will go on the rifle next.
Today the 26 round Black Dog Magazines came. Wow can you go through 50 rounds fast. Just a lot of fun. And accuracy with that 1x scope .. I was shooting the little spinner targets at 36 yards. I was ringing a steel plate at 60 yards. And just to see what would happen.. I took the lid from a one gallon paint can. I set that up at 100 yards. From a bench position I took three shots at it. And it fell over. When I inspected the lid, one hit was about two and a half inches from the other two hits. The two main hits were dead center in the can lid and about three quarters of an inch apart. For a 1x scope.. that was pretty good for me.
If blowing off $20.00 worth of .22 shells don't bother your wallet in a day... this is just a super fun rifle to shoot. It is also easy to clean. I really like this rifle. It has found a home.