A friend of mine was kind enough to send me a few of the Lehigh .451 caliber conical bullets to test in my White Model 97 Whitetail Hunter .451 caliber rifle. This rifle has a 1-20 twist. And only a 22 inch barrel. It sports a Bushnell 2-7x32mm scope. He shot these out of other 45 caliber rifles and wanted to see how a White Rifle handled them. He knew I had one, and asked me to test it out for him. I was more then happy to help.
The weather was brutal today. 86 degrees out. So I was concerned about heat. Also there was a strong left to right wind. But at least the breeze felt good, and kept the biting flies and other bugs at bay.
Mike normally shoots his Lehigh Conicals with a LARGE powder charge of Triple Seven. So I decided to use Triple Seven 2f powder today. When I shot the Lehigh 220 grain Conicals made of Brass, I shot 110 grains of powder. When I shot the all lead Bull Shop Conical Bullets I cut the charge back to 80 grains for the benefit of my shoulder. I was setting the whole works off with a Winchester Magnum #11 cap. I did swab when shooting the Lehigh conical bullets but not when shooting the Bull Shop, so they got no cool down period between shots as well.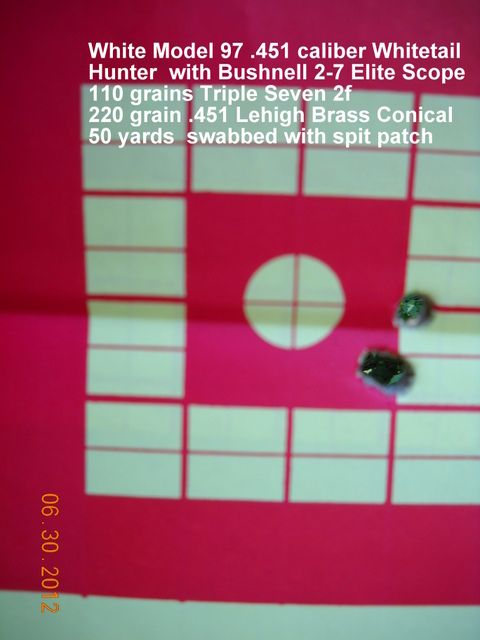 I started at 50 yards. I let the Lehigh go first. This is where my White is sighted in for according to my records. Shot #1 was at 3 on a squeaky clean barrel. Shots 2&3 the ones that touched were shot after swabbing and letting the rifle cool down a little. Pretty good group, as I do believe at that distance the Lehigh would have just kept stacking, I saw no reason to shoot more. So with the rifle dirty, I swabbed the barrel clean, let it cool down, and broke out the Bull Shops.
The Bull Shop conical is 488 grains all lead conical bullet at .451 diameter. They really pack a punch and normally in the past shoot very well at this distance. I shoot them with 80 grains of Triple Seven 2f according to my notes.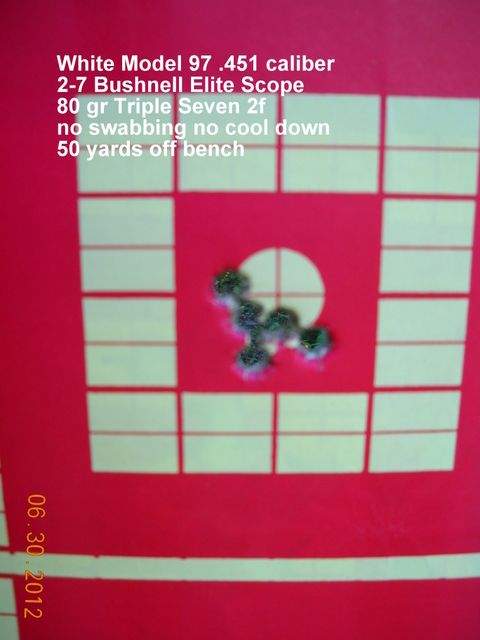 since I had a new box, I shot off 5 of them. The first was on the left, the highest. After that it just started laying them in as it always does at this distance. I could hear that big lead hitting the steel trap back at the 105 yard line. Had a real nice ring to it.
After that I swabbed the barrel clean with Simple Green I got out of the house. At first, I had forgot a cleaner and was using spit. I was amazed at how dirty 110 grains of Triple Seven 2f was. There was powder all over the place. I wonder if this short barrel just could not fully burn off that kind of charge. With the barrel clean, I moved the target back to 100 yards. Even the range meter gave me 2 readings of 100 yards.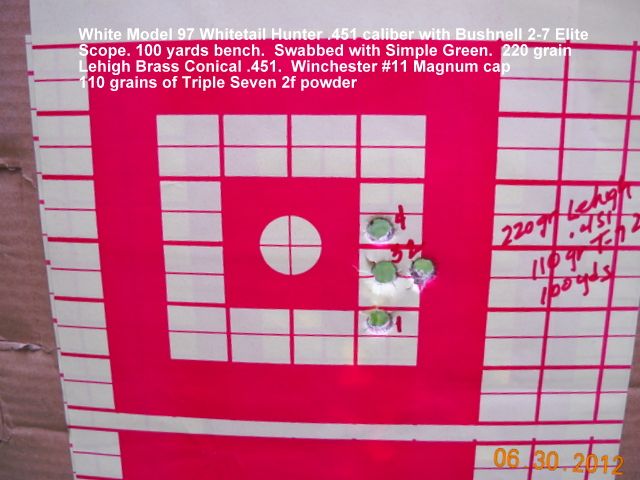 I fired four Lehighs at this distance because I think I flinched on the first shot. It was one of them things, your squeezing the trigger and a big drop of sweat lands in your eye. Looking through the spotting scope, I could see it was close to the bull, but was not sure it belonged there. So the next three kind of proved it did. Very nice group there for 100 yards and me shooting. I was amazed that the bullets did not drop all that much. I was now kind of exited to see how the Bull Shops would do.
Without swabbing after the last Lehigh shot, I fired off the 488 grain lead slugs.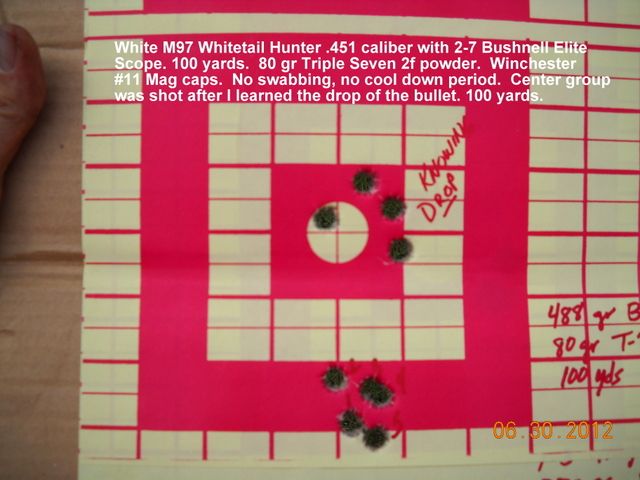 I was not sure how much a drop there would be. But 2-1/2 inches sounds about right for a rifle sighted in at 50 yards. Then to prove to myself and for the opportunity to sweat more and shoot.. I adjusted my point of aim over the bull to the red solid bar and tried to see if I could bust the bulls eye. I would think that's dead deer accurate at that distance, even with my Kentucky wind-age.
On the last shot at the center, I had exhausted all my straight line capper magnum caps. And wearing a T shirt and shooting these loads, I could feel it in my shoulder.. so I decided to stop for the day.
Over all, these Lehigh are good shooters. THEY LOAD HARD. Not so much that you can't load them, but the sound they make sliding over the rifling of the barrel makes me grit my teeth. I found with my roundball starter, I can pop them quickly under the muzzle. And then its a short shot to the powder charge.
The rifle behaved like all Whites do.. perfect.