It was so hot here today, I decided to play inside. I had purchased a new 3-10x40mm Cabela's Powerhorn Muzzleloader Scope because they were on sale again. Only to discover I had two new scopes in the cabinet. Oh well, never have too many toys.
I mounted the scope on a Thompson Center Black Mountain Magnum 50 caliber traditional style rifle. This rifle has a 26 inch barrel (the same barrel as the omega I was told), with a 1-28 twist and uses a musket cap ignition. This rifle is one traditional rifle that can shoot pellets if you want. I did not want to.
So I got it all set and decided.. lets sneak outside and do the final settings on the scope. So I took a target and set it at 13 yards. Set the rifle up in the range bench, and made final placement to match my eyes, etc. Wow.. nice and clear.
I kept telling myself .. its too hot to shoot! The thermometer in the shade was at 88 degrees. The one in the sun, where I was sitting was a little higher. And there was no breeze at all.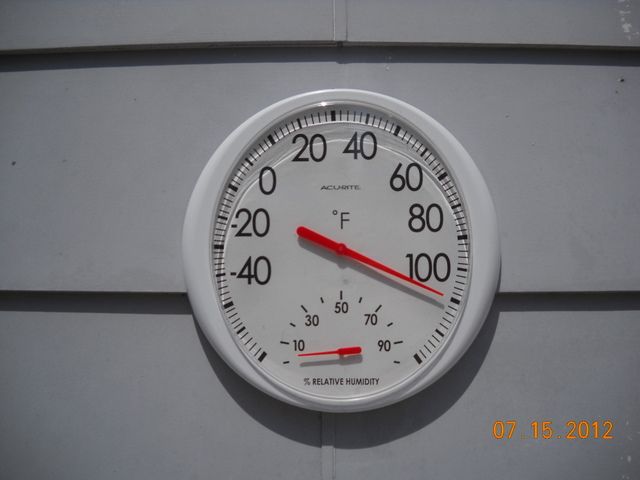 Well I had a nice clean target, all the rests out there, the rifle out there... I mean yes it was hot. But just a couple shots. Right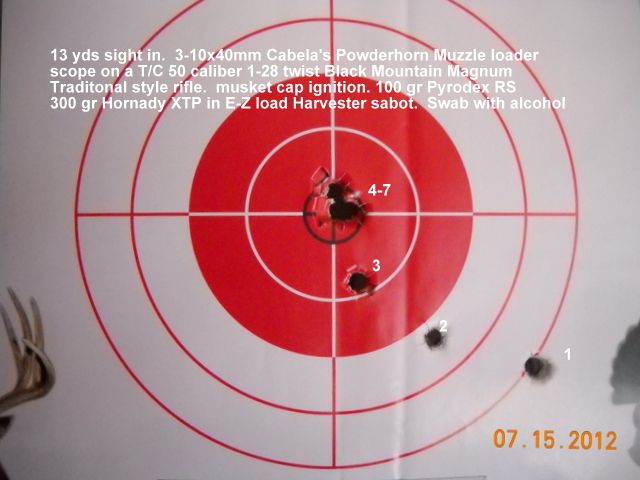 My line up could of been better but it got me on paper and I walked it into the target center. Pretty good for a 13 yard target. Then I remember the old wives tale about.. dead on at 13 yards should be real close at 100 yards.
So I decided to see what the rifle would do as I moved it backward in distance on the range. It should be noted I was swabbing with isopropyl alcohol and shooting 300 grain Hornady XTPs E-Z load Harvester sabots, CCI musket caps, and 100 grains of Pyrodex RS. As the rifle likes 100 grains of Pyrodex RS for the most part.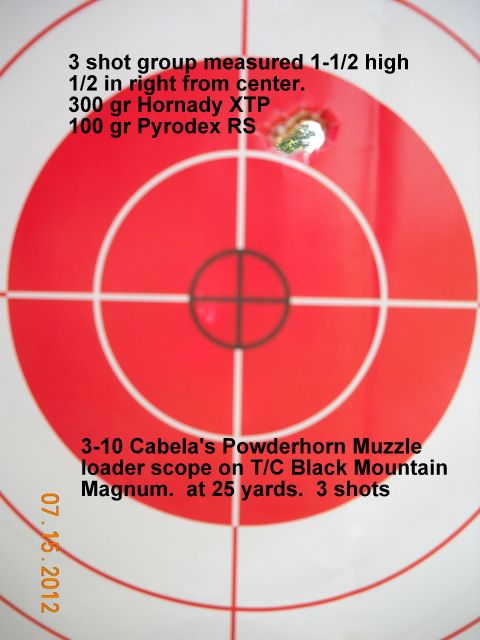 I put up a new target (so I could go in the house and cool off) and I really wanted to see where the rifle would move to at 25 yards. I was kind of surprised. Not by the group mind you. I was pleased with that. But it was an inch and a half high and a half inch to the right. But if you note, even at 13 yards the hits are to the right of the line. Not by much but could that have made a difference? So I swabbed the rifle clean and moved the target back to 42 yards.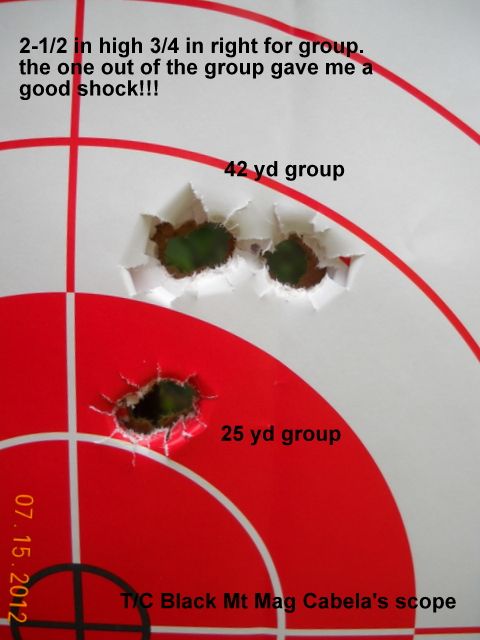 At 42 yards the first three hits were nice and tight but 2-1/2 inches high now. And 3/4 of an inch to the right. So maybe that little difference at 13 yards did make a difference. The one shot that is out of the main group at this difference really surprised me. The rifle kicked like a mule, even through it had been swabbed. And when I inspected it I discovered..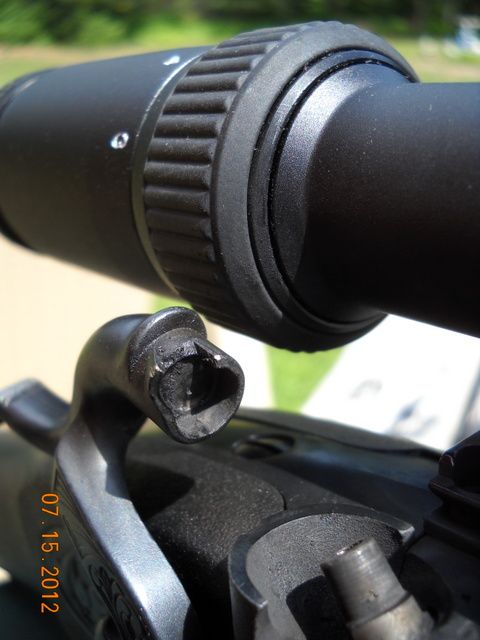 notice the hammer...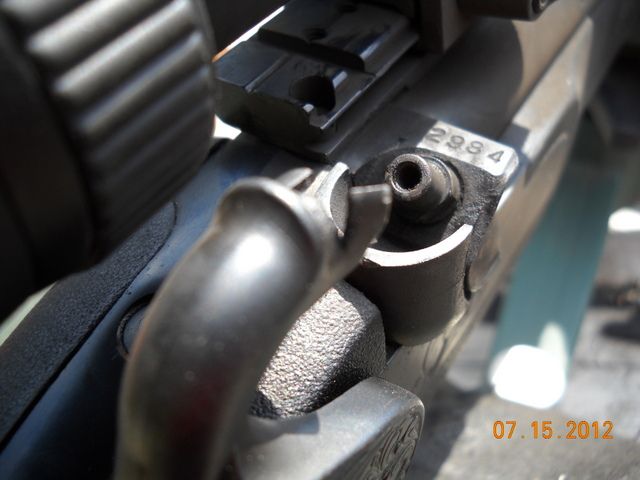 The back pressure on that last shot bent the metal of the hammer nose. I was able to put it back in place with a tack hammer and a flat head punch. But could the hot temperatures have caused that much of a difference in pressures? Granted the barrel was getting warm.
I was going to shoot more, but with the hammer binged, and me sweating from walking back and fourth from the target.. I decided, maybe a different day.
The new scope is really great. But I find I see the best with it at these close ranges on about 6x instead of 10x. Still its nice and clear, and seems good and steady.
My thinking it, aim it dead on at 50 yards so the cross-hairs are dead on at 50. Then see where the BDC lines hit and use them for longer distance shots. Where I hunt I will never get a 100 yards shot most likely. But a 50 is possible.
And it was too hot to shoot. But I love to shoot.