I was CLEANING (yes that is right) my gun shelf storage area. Bullets to arrange, boxes to move, etc. And I found a Simmon Pro Sport 4x32mm Shotgun/Muzzleloader scope, brand new, still in the box sitting there on a shelf. They must have been on sale. I remember purchasing some a ways back for $19.99 each. Hey, only the best for my rifles.
So I looked at the rack of rifles and saw that my Knight LK-93 50 caliber Stainless steel barrel, 22 inch barrel, only had a 1x32mm scope on it. A Traditions scope at that. These were some $50.00 1x scopes I picked up when Wisconsin would not allow magnification scopes. They actually work really well. But having this new Simmons Scope I figured... what the heck.
So I mounted the new Simmons Scope on it, and fixed the trigger as I had lost both E clips off the trigger. I had purchased a number of them the other day at the hardware store, so I fixed that and replaced the E clips. I think they were 5/32 size. And the trigger works good as new. So with the trigger fixed and then new scope I headed outside.
I set the target up at 25 yards to sight it in.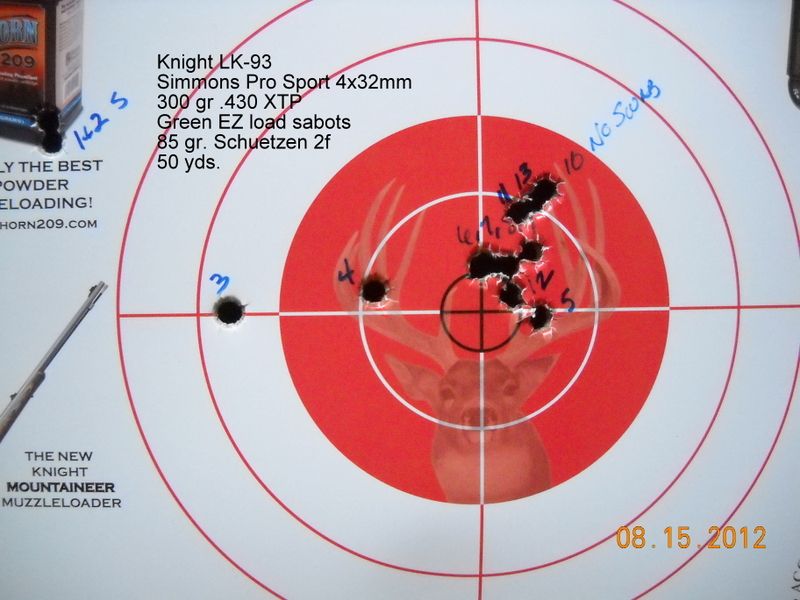 Needless to say, I fired the first shot and was staring at the bulls eye and thought...
What the heck is going on. Checked the rings, checked the mounting screws... finally I walked up to the target and saw the hit far left and high. I was kind of surprised. So to double check this, I fired again. Yup! high and left. So I started cranking on the scope. Fired #3, #4, and finally #5. Ok.. I was getting in the ball park with #5. So I made one small adjustment and shot.
#6 looked fine. So I ran the target out to 40 yards (edge of the lawn in the back yard) and shot 7, 8, and #9. Not bad. Ran the target back to the 50 yard line and cut loose with 10 - 15 but realized it was just drilling holes now. Funny all but 12 mind you, the group at 50 yards was higher then at 25. So I am guessing it will come down around 75 yards. But I would really have to test the rifle more to know.
I finally quit after 15 rounds. To be honest, I was wearing a sleeveless T shirt, and so I was taking the full brunt of the recoil from the rifle on the bare shoulder.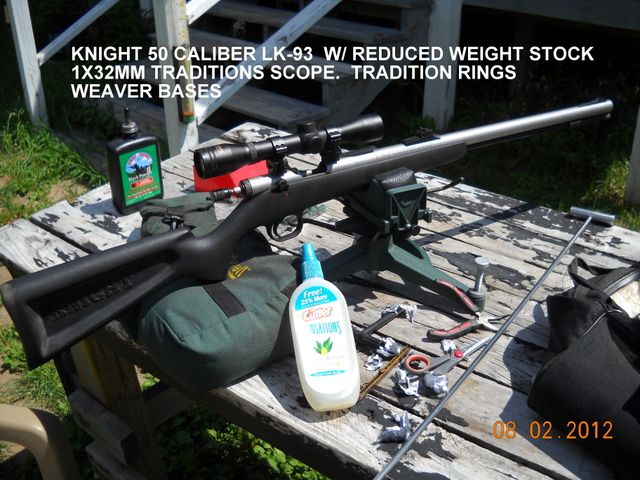 With that narrow stock (the light weight model) that thing can really kick. But it has a new hat and is all sighted in at 50 yards. Maybe just a few clicks to the left. Next time out, we can play with that. This is my little tree stand rifle. And I use it in heavy cover. So I don't need a large power scope. But I do need accuracy. These Knight Wolverines are just a real meat and potatoes rifle.
Checking the old targets, this 4x sure tightened the group up. That is good. But I have to admit, this is a very poor quality scope. The glass is not that good. The focus is all right, but for twenty bucks I guess you can't expect much. As long as it gathers light and kills deer. That's all I care about.