Today I spent the morning casting roundball and conical bullets until it started to warm up. With a whole bunch of 50 caliber brand new roundball, I decided I had to shoot some to see how they did.
Then I remembered Falcon posting a while back about shooting his CVA Staghorn at 50 yards with roundball. And I said... Yes!! that is what I want to do. I went and grabbed my rifle that I thought was a Staghorn but accidently grabbed a Knight LK93. Hey stainless barrel, nickel barrel. Black Stock, same scope. Anyone can make a mistake. So I figured.. what the heck.
Now I have shot my Knight LK II with roundball and it did real well. So I thought.. ok, lets see how this one does.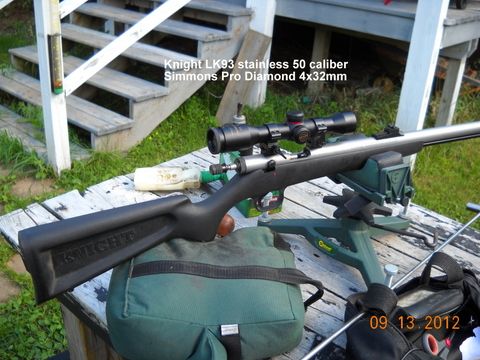 Carried all the gear out the the shooting table that I had to rebuild today. And set the target at what I thought was 50 yards. Got all set up and thought... that don't look like 50 yards. Light bulb moment.. you moved the shooting bench today when you were working on reinforcing the legs for winter. Range finder said 44 yards. And I said.. Good enough!!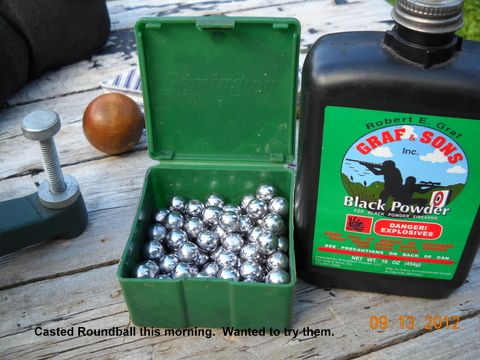 Many thanks Semisane.. great lead!!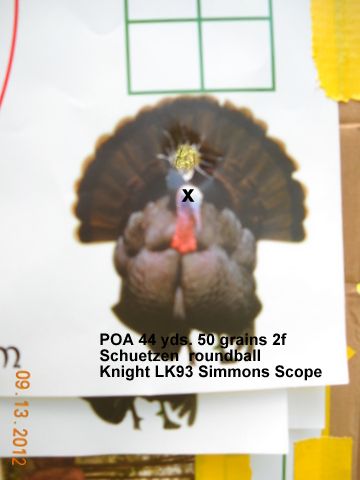 My LK II likes 50 grains of 2f powder. So I loaded 50 grains of 2f powder. First shot looked pretty good. I ained at that turkey's white head.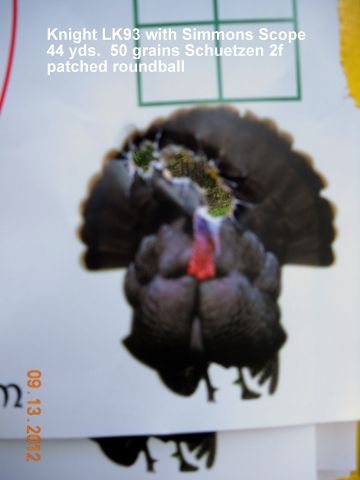 So I shot off a few more. And noticed it stringing. That normally means it wants more powder. So I kicked the charge up to 70 grains (by accident I was headed for 60 grains, but the marks on the measure are so worn).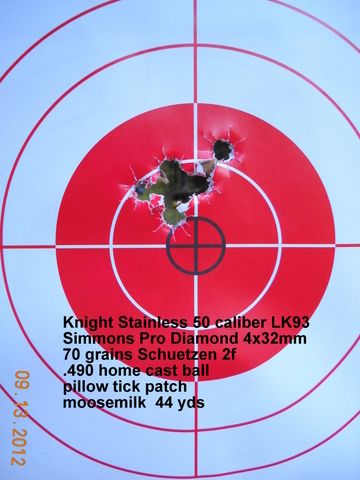 Now I swabbed the barrel real good before shooting 70 grains. But man.. this thing really shoots 70 grains of Schuetzen powder and a home cast roundball. This is a deer killing load here.
I did try the target at 100 yards.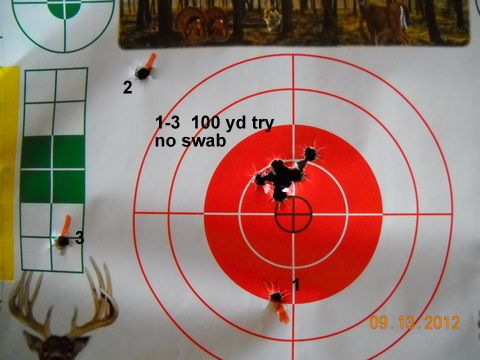 First shot in the red but low. Next shot, rifle so dirty I could hardly load it... the next two shots were all over the place. So I decided this is a short range rifle and short range it will be. But I could kill a deer easy with 70 grains and a roundball. This was a lot of fun and Falcon made me think of it today.. thanks Bud!!