Rifle: Lyman Great Plains Hunter Flintlock 50 caliber 1-32 twist
Flints: Thomas Fuller Black English Flints
Powder: Schuetzen 2f black Powder Goex 4f primer powder
Projectiles: .490 LEE Mold Round Ball 177 grain pure lead
.504 LEE Custom Mold 449 grain UC Short Mag
.508 LEE REAL conical bullet 320 grains pure lead
Distance: 38 yards shooting open sights
Weather: 60 degrees sunny and slight breeze.
I had cast up a number of different projectiles the other day. These included many of the things I normally shoot in my rifles. Such things as roundball and conical bullets of different sizes.
I have been trying to find the perfect load for my Lyman Great Plains Rifle. It has a 1-32 twist. And while it shoots pistol bullets in sabots very well with different powder charges. When I originally purchased the rifle I was hoping to get a rifle that would shoot things I could cast at the house. Well today I might be on to something.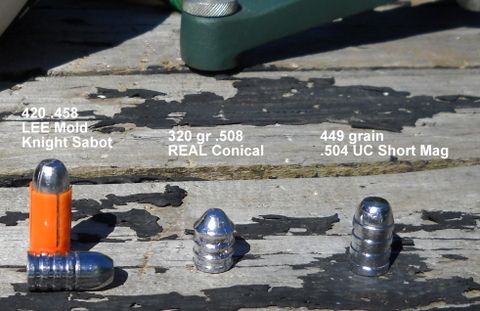 These show some of the things I wanted to try in the rifle today. And since I had no base to start my testing, I decided since Lyman normally suggests 70 grains of Blackpowder as a good all around load.. this is what I would start my testing with.
Putting up a target on the end of the yard, I got back to the shooting table. Then I remembered, I had moved that table the other day, making it stronger for winter's tough conditions. My range finder said 37, 38, 38, and 38 yards.. So I called it 38 yards.
I started with roundball. I know from past shooting with the rifle it likes roundball. Even though the twist is 1-32. And it likes a 70 grain charge so .. perfect. Let it start the game.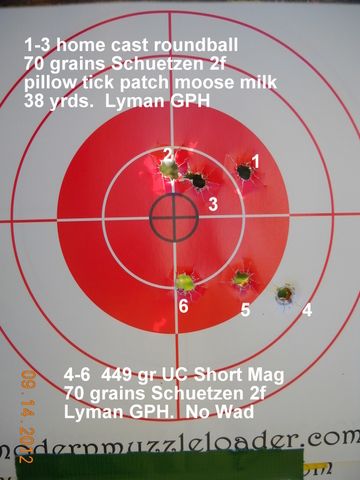 I shot three of them off without swabbing at all. And on a clean barrel as in the past, it threw that one a little. The other two were real good. So I broke out the UC Short Mag conical bullets. I decided to be fair and swab the bore with whatever I had in the bag, which happened to be Moosemilk. I swabbed the barrel quite clean and shot three of the large 449 grain conical bullets that I cast from a custom mold, made for my White Rifles. I was not real impressed being only 38 yards away, and was going to stop trying them.. when I thought.. hey, lets add a wad and see what happens.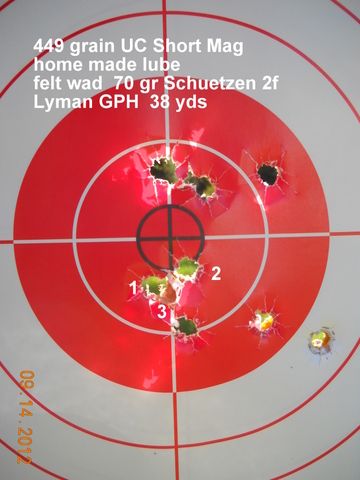 WOW!! much better, and I had not swabbed since I started shooting the UC Short Mag conicals. So I decided to shoot the rifle dirty.. I also noted that they were hitting with a dead on six o'clock hold, so I moved up a little on the target to see what would happen.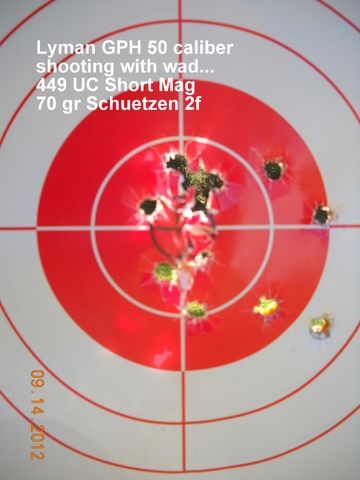 OK.. with a wad and 70 grains of powder throwing that 449 grain concial bullet around, I was quite happy with the accuracy. As this distance is more then what the average shot I would encounter would be.
And I fired until the gun went out on me. In fact the last hit with the UC was off to the right. So with moose milk and a much needed rest to my shoulder, I swabbed the barrel clean again. I then decided to test the 320 grain REAL conicals.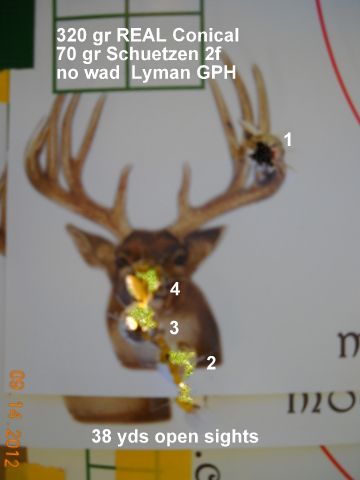 The first of the four it threw. But the next three without a wad.. did pretty good. That is actually a nice little deer hunting conical. I have used it in the past and it really knocks a deer down well.
But the fun was about to start. I again, swabbed the barrel clean. This time I loaded up the .458 diameter 420 (LEE says they should weigh 405 grains for the 45/70 government but they don't cast pure lead then) grain flat point bullet. And used the Knight sabots.
This bullet loads like a dream. Thumb pressure puts it in the barrel and then the ramrod will seat it. Its firm and smooth, but no short starter needed. So it had my attention. I picked out the head of the turkey in the other corner of the target from the deer head. But I had to admit, I was getting kind of shot out.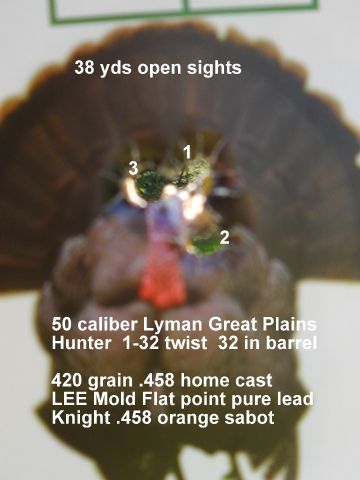 I was swabbing with moose milk between shots. And the accuracy with only 70 grains of powder was amazing. Now I have no doubt of this bullets ability to take game. Even with only 70 grains of blackpowder. This is the bullet I cast then size and use in my White Model 97 .451 and shoot with 65 grains of Triple Seven. When the White owners used to talk about this caliber and bullet, they told of how with little powder, they could still hit and take game at some long distances. So I feel pretty confident that 70 grains of Blackpowder and this bullet would be bad deer medicine.
Overall it was a great day on the range. But next time I will need to remind myself to take the flu shot in the other shoulder. I am a little sore today. But it was well worth it.