That's right, I said Rifle not Hunter. I had shot already today the Staghorn Magnum and had cleaned it. I was just sitting down ready to rest when the door bell rang. It was the mailman. I got a good deal on a very old in perfect shape Lyman Great Plains Rifle. It has the 1-66 twist, the beautiful wood. Even says it is from Investarm Inc instead of Lyman. And has the black powder warning stamped on the barrel. Like I said it was old, the price was right. And I always wanted one.
He had me sign for a box, and commented to me.. kind of heavy Dave.. wonder what that could be. And I just smiled back and told him to have a nice day.
Opened it up and there was my new/used Lyman Great Plains Rifle with a 1-66 twist not the 1-60 as this is an older rifle. It was in great shape. So I took it down to the cleaning room and cleaned it. Then decided to check the fire channel. And then said... what the heck!!
Put up a target at 25 yards since I had no idea how the rifle shot. Took out some home cast roundball, Schuetzen 2f black powder, pillow tic, and Remington caps. Range finder reminded me I'd moved the bench at it said 28 yards. Amazing little machines these things.

For your viewing pleasure...
Anyway, I shot two rounds at 28 yards for starters. Gun fired perfect.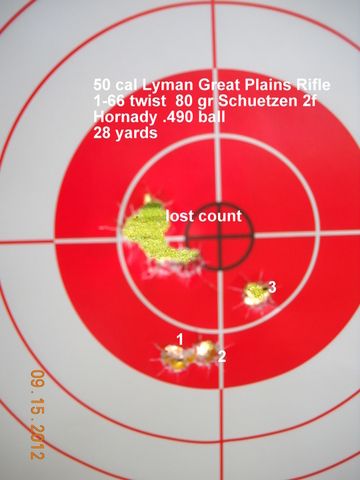 So I made an adjustment on how I looked over the sights and shot #3. Ok, a little more.
After I had my spot, I just kept blasting away. It shoots a little left for me, but I will drift that sight in a while.
Then I moved the target back to 50 yards and aimed at that little turkey in the corner of the target. I first held dead center on the little bird.
After seeing that I held to the right. The blue marks show my different POA.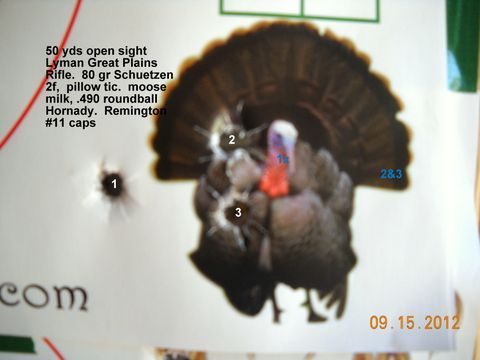 So the gun sight needs to be slightly adjusted is all. And I cleaned that rifle up, and it sits on the rifle wall next to the Great Plains Hunter. Nice looking pair.