I have been talking to Ed about his White .451 and what he was shooting. I have a White Model 97 Whitetail Hunter .451 with the 22 inch barrel, and #11 cap ignition.

Well I got some conicals in the mail to try. Needless to say I was kind of excited. They were a 350 grain Hollow Point Conical in .451 and a 450 grain Conical bullet. Ed suggested to try 60 and 65 grains of Triple Seven 2f powder. Which I was more then comfortable shooting.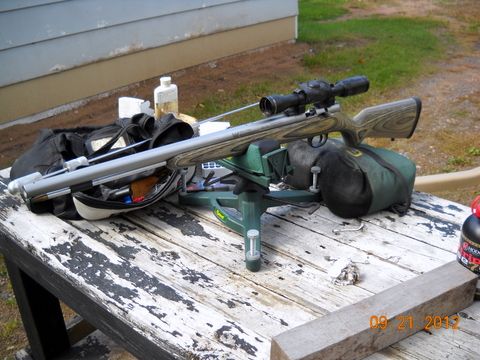 This is my rifle. The laminated stock and the scope is a Bushnell Elite 3200 2-7x32mm with firefly cross-hairs. While the firefly cross-hairs are hard to get used to, once you do, I kind of like them.




Shot #1 was totally my fault. I was looking through the scope at the target 50 yards away. And my brain told me... something is wrong. And I noticed I was crawling all over the stock of the rifle. But I fired anyway. Then I realized. when I had taken the scope off for cleaning, and mounted it again, I had put the scope in the wrong slots. So I moved that and shot #2-#4.

I had also brought out some Bull Shop 460 grain Conicals with me, knowing the rifle likes them. So to see what was going on and if the scope was different.. I fired off two rounds of them with 60 grains of T7 powder.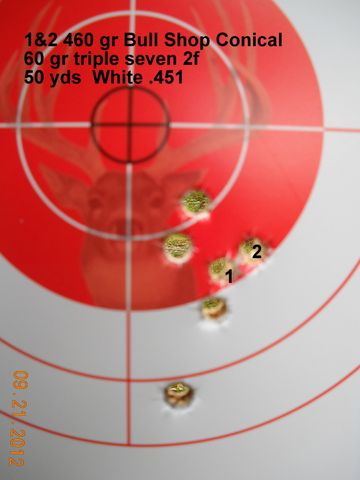 Well that showed me the POI had changed on the scope. Whether it was from the change in weather, or just the change in me.. who knows. But I made a slight scope adjustment.




So I discovered the 450 grain EM conicals group pretty good at 50 yards. So lets move this show back some.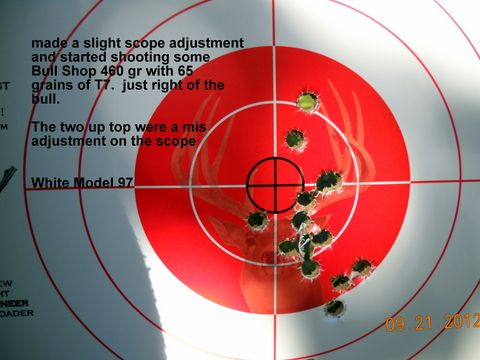 Knowing I was going to move back I made what I thought was a good scope adjustment. And tested the adjustment with the Bull Shop conicals.
Well it looked close so I changed targets to avoid confusion and decided to try more conicals.




I thought I was at 75 yards but the range finder told me different. But I upped the powder charge to 65 grains and shot some of the 350 grain Hollow Point EM conicals. Now those things shot a lot higher then I thought they would. But before I adjusted the scope I tried two of the 450 grain EM conicals and discovered my adjustment was actually pretty good. So I shot one more to make a three shot group. Very pleased with the results.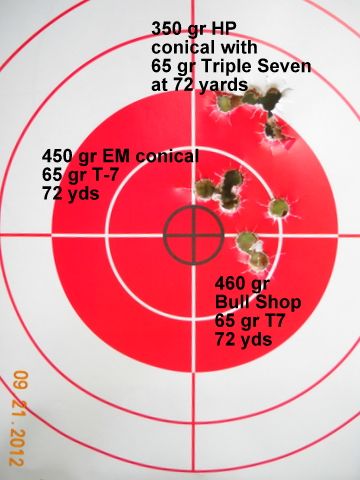 So I fired off three of the bull shop conicals to see what they would do. Again, very pleased with that. Shooting 65 grains. Although I do want to kick them up a little more and see what happens. Say.. 80 grains.

But it was starting to rain on me. So I took down the target and was going to call it quits. When I saw a paint can laying on its side down at 100 yards.




That bull shop conical really dropped more then I thought, with the additional 30 yards added. But it was fun to try. I want to shoot more at that distance.

Also back there I saw something that really surprised me... just on the edge of the yard by a back garden..




right on the edge of the garden where the potato patch was.. is a bed from something. Checking for sign I am 100% positive a bear slept there. He left his calling pile just up trail from that bed. It is bear season. So maybe he felt the hunters and dogs could not find him if he slept in my yard. It was only 45 yards from my back door of the house.
_________________