Today I wanted to shoot flintlock. And I have not shot the Trade Rifles in a long time. I could not decide which one I wanted to shoot, the .50 or the .54.. so I took them both out.
I started out at 25 yards because I wanted to see how this 50 caliber would shoot the .504 diameter 450 grain UC Short mag conical bullets I casted. First off, they loaded like a dream. Just a nice slip fit. I only put 60 grains of powder under them with no wad. And they shot to the left of the bull in a not too impressive group. Perhaps more powder, a wad, who knows.. it was a first attempt.
Since I know the rifle shoots roundball real well with 70 grains of powder.. I took some home cast roundball and pillow tick. I used dishwater as the patch lube and shot them at the bulls eye.. they did pretty good. I did actually shoot one round at 50 yards, the one under the red square. But decided I wanted to shoot bigger things still.
So I got out the .54 Trade Rifle flintlock. I had some Semisane .535 ball left and wanted to try them at 50 yards. I loaded 90 grains of powder which this .54 seems to like.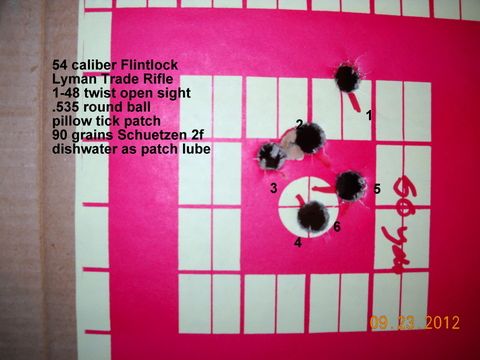 I shot three and noticed they were a little high off the bull so I adjusted my POA and shot three more... Now that pleased me. I had to pull the target to find #6 but on the back of the cardboard #4 showed a secondary cut to the hole. The front showed a little of that, but either that or I missed the target completely with the last shot.
I was going to shoot more, but of course company had to show up. So I called it a day. But it was fun to get the flintlocks out.
That dishwater lube, before you laugh... try it. You can swab with it too. These were some ball that Semisane made me. And they sure shoot good!!!