I wanted to test some different bullets today in my White Model 97 Whitetail Hunter .451 caliber. It has a 1-20 twist I believe. And it wears a Bushnell 3200 Elite 2-7x32mm.
Last time out, I was shooting some conicals made by a forum member and ended up adjusting the scope a little. Today I was going to shoot some 40 caliber Lehigh 200 grain brass bullets in light blue harvester sabots, and some .452 diameter 250 grain Lehighs but shoot them as a conical bullet.. no sabots.
Sabotloader told me they liked a lot of powder and he normally shoots Triple Seven 3f with them and swabs with Windex. So I decided to copy his shooting and see what happens. As many know, I normally don't shoot large loads of any kind of powder.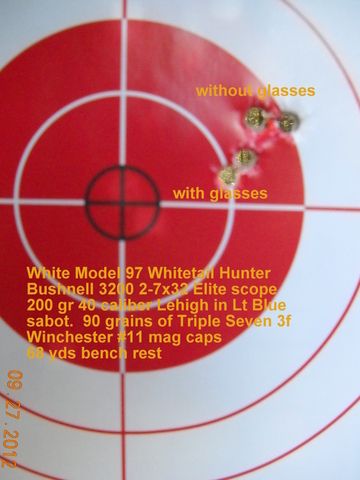 I thought I had set the target between 70-75 yards. The range finder gave me two readings of 68 yards so we called it that. I was using a double bag system rest and was rock solid.
Look at how much the first two shots were off. 90 grains of 3f Triple Seven and a 200 grain Lehigh. They loaded like a dream. Very firm but an easy push. But I was doing like Sabotloader does and swabbing between shots with a single patch and windex on it. There was no crud ring from shooting Triple Seven 3f today. The first two I had my glasses on.
I noticed that because I was in bright sunlight (and 50 degrees) shooting into some deep shadows in the woods, I removed my glasses and tried two without glasses... funny it should change where I hit. But actually, letting the scope be my glasses, I could see much clearer. Has anyone else with poor vision like me, noticed the glasses phenonemon?
I then swabbed the barrel clean, and I mean clean. I decided to try the conicals. These are a .452 Lehigh 250 grain brass bullet. I stuck with the 90 grains of 3f and no glasses to see what happened and where they would hit.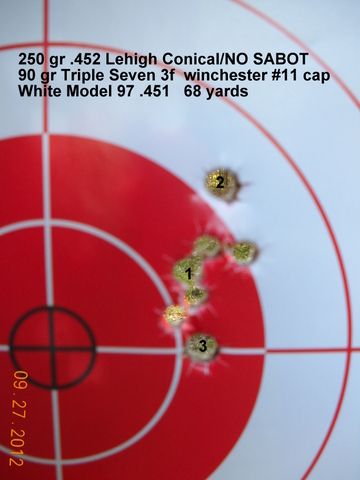 I fired three shots. And I am going to go out on a limb here... I don't like the feel of an unlubed brass conical being seated through my bore. Now granted, they had to be smacked hard to get them in the bore. But once in there, other then a scraping feeling, they loaded fine. They shot pretty good also. And actually hit in about the same place as the 200 grain 40 caliber.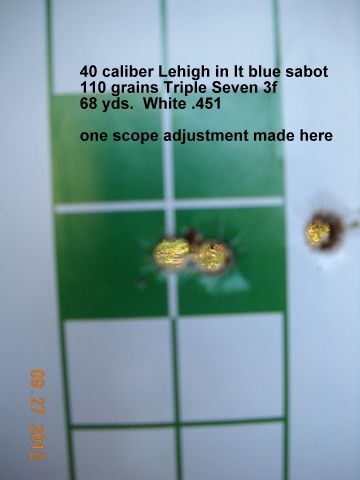 I had noted that Sabotloader likes to shoot 110 grains of 3f Triple Seven with his bullets. So as much as I dislike this.. I did it too. I also made a scope adjustment. The first two were perfect. And I am not sure, but I might have flinched a little on #3 because it actually came back and the scope hit my hat. So something was different. But wow.. the accuracy was very good. And looking at the kind of velocity Sabotlaoder gets with that load.. that bullet is hauling!!!
Then being a glutton for punishment, I shot four of the 250 grain conicals/no sabots with 110 grains of 3f Triple Seven. I know I flinched on one of them because my nose got bumped. Like I said, I am not fond of stiff loads. I shoot a very loose, go ahead and kick me kind of style. They did not really do all that bad.
Then to double check the double check, I broke out some 488 grain Bull Shop Conical bullets. I also got some 2f powder Triple Seven because the rifle likes that. I swabbed the bore clean. And I mean clean. Even taking the plunger out, cleaning that and the open breech area. The first shot was to the left. And not being crazy, I lowered the powder charge to 65 grains. More then enough to make that big bullet take out anything in my woods. The next four were just the way a White Rifle should shoot... large conicals, a good powder charge, and the kind of accuracy I demand.
On a side note.. no crud rings today. Before going in the house, I leaned the rifle against the bench, opened the breech, and squirted several blasts of windex down the bore. The with two soaking windex wet patches, swabbed the bore. When I got in the house, and took the rifle apart to clean it.. the barrel was clean. While some of you long range shooters need these little fireballs to shoot 200 yards...
I think I will stick with 65 grains of powder and a fat conical bullet. And let the deer fall where they may.. What a day on the range. A rifle that behaved, powder that behaved, caps, and most of all pretty good accuracy all around.