Today I decided to get ready for the upcoming bird season. As in the past I use a 12 gauge black powder shotgun. Normally I was shooting my 12 gauge New Englander. But decided the TK2000 Knight is much easier to load and faster. Since I no longer have a dog to point the birds out to me and make the gun more apt to be ready, I need to be fast. The Knight is much faster to flip off a side safety then to ###### a hammer.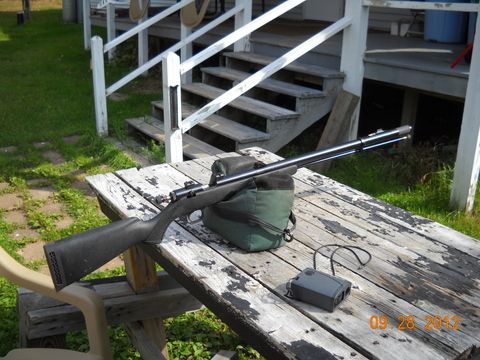 So out in the yard I went. I decided to shoot American Pioneer Powder as normal. But discovered I had shot all my 2f APP off. Darn..


So checking supplies I found a new bottle of Jim Shockey Gold 3f powder. I convinced myself that the difference between the 2f APP and the 3f JSG could not be that much.

Now when one considers the difference between a Grouse Load and a Turkey Load think of it like this..




One holds a little more shot then the other one. And more shot means more recoil. But heck.. I am a man. I can take it. So I took a 2 liter plastic bottle and filled it with water. Carried that out in the yard and set it up at 40 yards ... range finder varified.

I loaded the normal turkey load of 100 grains of APP 2f.. but wait, I am shooting 3f JSG. Should not make that much difference .. right? I was setting the whole show off with a Winchester 209 primer. So I loaded the powder. Then pushed one of those 3-1/2 inch shotgun wads down the bore. Then an equal measure from another wad of #5 lead bird shot and #6 bird shot mixed. Crawled behind that shotgun and... Took a bead on the water bottle and fired... Holy Cow!!! that gun kicked.

Through all the smoke every thing disappeared. I think my lower dental plate shifted. And my shoulders met up somewhere in the middle of my back. But I knew I had fun... right.




The shot did not penetrate completly through the bottle, but it did put numerous pellets in the bottom of that plastic bottle. So for KICKS I set the bottle out at 45 yards. Went back and decided.. its not nice to shoot that much powder at a poor defensless bird. So I reduced the powder charge to 80 grains. Loaded up another turkey load and fired...




That time the recoil was not so bad... What!! Who am I kidding. Man that thing kicks. But the bottle went across the lawn some more, so I knew I was hitting even out to 45 yards...

Then I decided to pattern the shotgun with the JSG. So I loaded up another turkey load.. and looked to see if there was someone I coudl talk into shooting this thing for me. No one.. just my luck!




I set out a box at 30 yards. Which is normally further then I set my decoys anyway. And crawled behind that TK2000. I wonder if TK stands for technical knock out? And fired at the box. Well this JSG pattern is a little higher then the APP does. Even with 80 grains. But its a good pattern.

I then shot a few more of the turkey loads. And decided.. if I shoot at a turkey, something is going to die for sure.

Then we loaded up 80 grains of JSG and the grouse loads.. What a pleasure to shoot. Granted it still kicked. But this was like a dream compared to those turkey loads. I shot a total of 13 times and decided I had shot enough today. I am ready for bird season.

__________________
Edited by cayugad, 28 September 2012 - 01:20 PM.