On a different forum a poster showed a moose and an elk he took with his 50 caliber T/C Hawken 1-48 twist barrel (was a kit gun). The moose was over 100 yards and the elk around 50 yards. He was shooting 100 grains of Triple Seven 2f powder and a .503 460 grain No Excuses conical bullet. The mushrooming of the bullet was most impressive, as was the accuracy.
So today it was beautiful out. I spent the morning working and was out in the shop with the college game on. And I was thinking about large conical bullets and a T/C Hawken rifle. So I finally went in the house and brought out a fresh target. I also brought out my 50 caliber percussion model T/C Hawken rifle with a 1-48 twist on it. And brought out a box of UC Short Mag conical bullets. These measure right around .505 before I size them.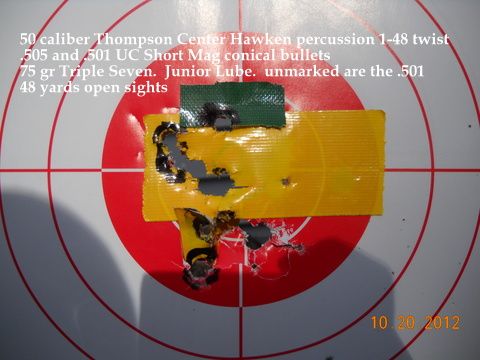 I set the target out at what I suspected was 50 yards. After I taped up all the holes and such. And I was using Junior Lube, made with lard as my conical lube. Since the other poster had such good luck with Triple Seven 2f I brought that out as my powder and some Winchester Mag #11 caps.
I was not about to shoot 100 grains of powder with that conical. I don't like getting slammed around. So I decided on 75 grains as the load. I got the rifle ready, and loaded a .505 conical bullet. WOW! they loaded but you really had to beat them into the bore. Although once in the bore they went down the bore pretty smooth. And at 48 yards, the accuracy was more then acceptable.
I then decided to size some of these conicals and see if they loaded any easier. So into the shop where the game was playing and out with the LEE sizer. I used the .504 and the .501 sizer. I lube the bullets first and then sent them through.
Once done it was back to the shooting table. I decided to try the .504. So I brought the target closer..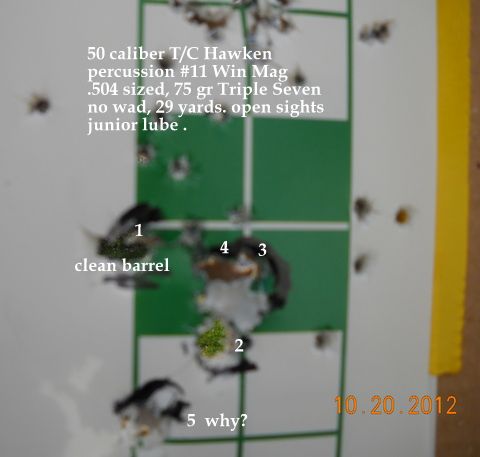 I had swabbed the barrel clean with MAP because I knew sizing the conicals would take a while and figured the barrel would dry by then. The .504 loaded ok, but still they could be a little better. Not that I could not get them loaded. And they shot pretty good for being at 29 yards.
Then I got out the .501 conical bullets. I size to this for my Knight rifles. And I was pleased to see that with just my thumb, I could set them in the barrel of the T/C Hawken easy. Although they were not slip fit. Half way down they met some resistance and had to be seated but it was much better then before.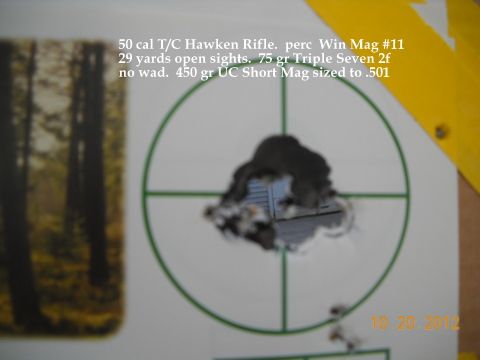 So in order to see that green circle better, I painted it with my magic marker. At 28 yards, with the .501 conicals, and 75 grains of powder, I think I found my hunting load. They loaded easy, without a short starter, they stayed on the powder charge and were very accurate at the hunting distances I often encounter. Also I never had to swab the bore when shooting!!
But to double check, I moved the target back to 50 yards and shot some of the .501 conicals. They are the hits not marked. And they did just fine in my opinion. So I think this will be the rifle's load this year. That should plant any deer that happens past me.