The Optima Report...

I got my work done early today. Ran to the big city and grabbed a set of steel Weaver bases that fit the Optima. Did a few other things and headed home.

At home I decide to see how the open sights would shoot. Set a target up at 26 yards. I took with me some Pyrodex RS and some BlackHorn 209. I also took some 240 gr .430 Hornady XTP and crushed rib sabots. And some 348 gr Aero Tip Powerbelts.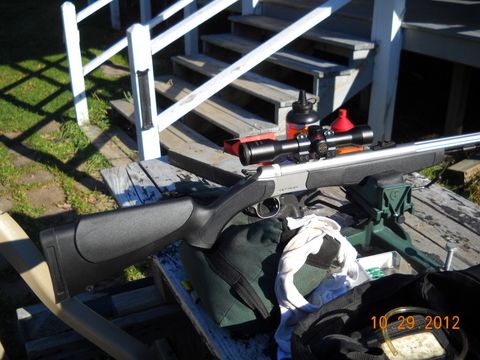 My concern today was not so much accuracy but just to see how the rifle functioned, and swabbed, etc.. So I started with 80 grains of Pyrodex RS and the XTP's. I shot four rounds with the open sights and as I have said countless times.. I am not a fan of fiber optic sights!! The sun was to my right and it caused the red front sight to grow a moon from the glow of it. Also the stock on this rifle is very hard to get behind.

I discovered.. to really set that sight deep in the rear sight I have to almost get off the back of the rifle. Or there is part of the check piece that really presses into my cheek and is not comfortable to shoot, trying to get down, into the stock.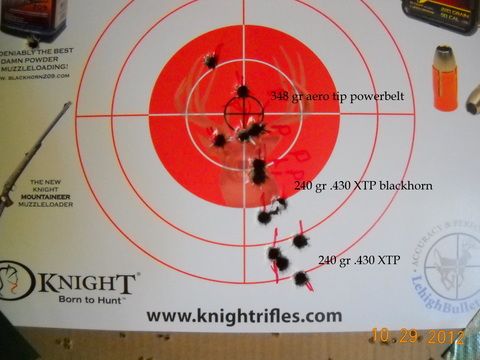 I realized that if the rifle had a scope on it, it would raise me enough off that stock to make it comfortable. So I went in the house, and mounted the Weaver Bases. Not real happy with them. Far to restricting on where the scope has to be placed. And I grabbed a $19.99 Simmons Pro Sport 4x32 scope off the shelf where I keep extras. And then I mounted that in a set of QR rings I had laying around.

Since I had swabbed the barrel clean, I decided.. lets try some BlackHorn 209 and see if this breech plug will shoot the stuff. Well even with a Winchester W209 primer I shot off BlackHorn like there was nothing to it. I shot four rounds of the XTP's with the Blackhorn and was surprised they hit higher.. but it was obvious that either the charge was wrong or the rifle does not like XTPS or crushed rib sabots.

So I swabbed the rifle clean and got out the powerbelts. All I had were 348 grain Aero Tip. I loaded 80 grains of Pyrodex RS and shot 5 rounds of them. Surprising was.. they hit even higher then the XTPs. And while at the distance I was shooting.. it should have been a ragged hole.. I really was not worried about accuracy at this point.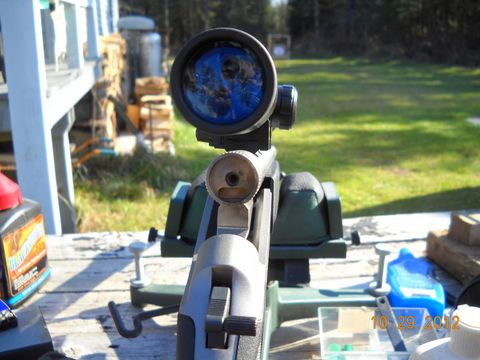 After 13 rounds.. the open area of the breech plug is still very very clean. No fouling on the back of the rifle where the firing pin lays, and the plug looked clean. Very impressed with that.




The firing pin is hitting nice and deep and dead center in the primers.. again pleased with that.




After shooting, I break the rifle open and tilt upward and the spent primers fall right out. Notice how pristine in condition they are. There just is not a lot of fouling out of this rifle.

So I ran the target out to 50 yards and decided to shoot at a picture on the target...




The bottom hit was 80 grains of BlackHorn 209. The top hit was 80 grains of Pyrodex RS. I was aiming dead center on the picture of Blackhorn 209 of course.

Cleaning the rifle was just a breeze. I took the fore end off and removed the barrel. The breech plug turned right out, easy, as advertised. I had used Slick 50 One Grease on it, and it was still the green anti seize. I was impressed. No blow back. A few patches later and the barrel was spotless. I ran two alcohol patches for the benefit of the Black Horn 209, and then two patches of Simple Green. A couple dry patches and an oil patch. Just a real easy rifle to clean.

So I have a lot of load work to do. I was going to order a BlackHorn breech plug but after today, to be honest.. I think when the BlackHorn runs out, I will be happy with the other powder. I do want to find a real accurate load. When the new scopes come in, this rifle will get a Cabela's 3-9x40mm PowderHorn Muzzleloader Scope. They were on sale for $28.95 and for that price.. I want to see what they are like.

A very nice rifle so far. Next time out, it will be pellets. Any bullet suggestions?