As many are aware, I recently purchased a CVA Optima 50 caliber. I have been shooting about anything under the sun and with all kinds of powder. But today I wanted to try something kind of different.
I had cast a number of conical bullets in .504 that weigh approximately 450 grain that we so fondly call the UC Short Mag. They are cast for the White rifle. I recently had my sizer out and so I grabbed a box of them and reduced them to .501 since I discovered my Optima likes a .500-.501 bore conical. So I wanted to try some of them.
Also I had ordered a large number of 200 grain 10mm or .40 caliber if you like, XTPs and the sabot .. the Harvester dark blue 50/40 sabots so I can shoot them out of my .50 caliber rifles. I wanted to try them also.
I checked my powder supply and discovered my last outing with BlackHorn 209 has almost completely depleted my supply. So I grabbed some Triple Seven 2f powder as I find this a good conical and especially a good sabot powder, and headed out to the range.
The rifle is sighted in at 50 yards so I set the target out at 50 yards. I started with the conicals, shooting 75 grains of Triple Seven 2f and NOT swabbing between shots.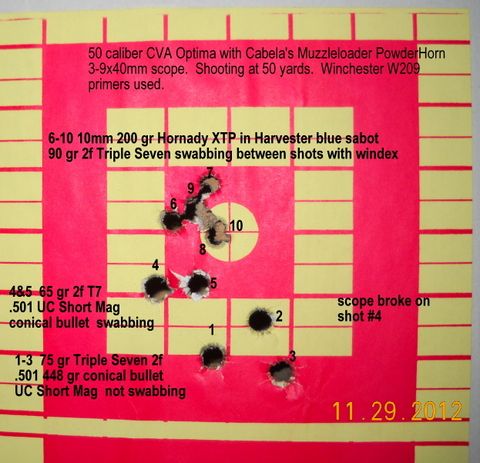 I was not all that upset about the spread of the first three shots. I was not swabbing. And these were loaded as fast as I could load. The .501 conical is a definate slip fit in the Optima. No short starter needed. Just push them under the muzzle and ramrod them home. After the third shot, I swabbed the bore and found the most horrible nasty crud ring in the rifle I think I ever experienced with shooting Triple Seven. I worked three patches with Windex to get it out. Then two dry ones, and then popped a couple primers to double check the rifle's fire.
I then lowered the powder charge to 65 grains which is much more common when I shoot the large conical bullets and fired two rounds. I did swab between shots. They did a little better. I looked for some wads in my range bag but did not have any. I decided to move on, as it was cold.
I will point out on SHOT #4 I broke the Cabela's PowderHorn Muzzleloader 3-9x40 scope... somewhat. By somewhat I mean yes, I did break it, but it can still be used. On the back of the scope is an adjustment for people that want to focus the scope. If you wear glasses you know what I am talking about. Well after shot #4 I noticed what appeared to be a RING inside the scope. So as your looking through.. you see a half moon like ring in the scope. The scope is still clear mind you. And it did not effect the POI. But this will never do and the scope will have to be returned.
I also discovered, if you look through the scope and adjust that focus, the ring moves. If you screw the back in all the way, the ring disappears. As you bring it out, it starts to pivot. Much like when your at the eye doctor.. and he has that machine against your face and he if flipping lens asking you is #1 better or #2 and as he asks.. for a brief second, you see the flip of the different lens. Well that is what you see in the scope. But it does not disappear until you screw in the adjustment and then bring it back out. It then might reappear, or it might not. Anyway, messed up scope and all I kept shooting.
I then went to 90 grains of Triple Seven 2f powder and the 200 grain Hornady XTP 10mm bullets in the dark blue sabots. These were a pleasure to load. You need a short starter, but they push down very easy. I did swab between shots because of the crud ring I was getting. And I shot five times.
That was a very acceptable group for me. I believe it was Semisane that told me about shooting a deer with this bullet and that it worked very well. It seemed to shoot very accurate at 50 yards. And it loaded like a dream. I have no idea of the velocity, but that light a bullet with that kind of powder charge would be moving.
So I took the target down and went in the house to warm my hands as it was very cold out there. I then saw an empty 2 liter soda bottle and could not resist. I filled it with water, put a chunk of black duct tape on it so I could see it in the snow.. then added a small 1 inch blaze orange dot to the black tape and headed back outside. Since I knew it was dead on at 50 yards, I walked the bottle back to 62 yards (range finder) and figured it should be dead on at that distance.
Back at the bench I shot at that 1 inch dot and of course in the smoke the bottle disappeared. Walking out there, I found the bottle was hit dead center. I just nicked the top of the red dot. But the amazing thing is, the impact of that 200 grain bullet hitting that water bottle tore that tape and dot in half, like I had cut them with a knife. The bottle was also amazing.. as beside the tear in the front and back, there was no top on it anymore, but the bottom of the bottle blew off. Could this little bullet really exert that much pressure in a water bottle? Pretty impressive to me.
So it was a great day. I got to play in the snow. Wrecked a new scope. And found a great load for the rifle. By the way the scope was only $29.95 on sale. I will send it back and just ask for my money back. This rifle deserves a much better scope. Maybe a $39.99 Simmons.. Kidding!! I think I will get a Nikon for it. I kind of like the rifle so far.