Hey guys, I'm still kickin'.
I actualy got to get out and muzzleloader hunt a bit with my son. Got a question for ya's. My son walked up on a huge Buck friday morning. Biggest rack he said he's ever seen when hunting. The Buck was sound asleep on a sunny hillside. It was very cold and windy. Anyways, the Buck didn't have a clue my son was there at about 30 yards. Jason leveled his CVA Optima Elite .50, using a  tree to steady himself, pulled the trigger and heard the primer go off and then a loud PSSSSSSTTTTTTT followed by the Powerbelt just cearing the muzzle by a few yards! He said you could see burning powder glowing that was stuck to the green plastic boot of the powerbelt as  it flew the short distance. The rifle was  freshly loaded with two 50 grain pellets of 777. Both the pellets and primer were first out of brand new packages. I can think of no possible reasonable reason that load should have been, nor could have gotten fouled.The rifle had been cleaned and oiled with a very light coat of oil down the bore followed by a dry patch. No way it could have been oil fouled. Only thing I can think is there was something wrong with the pellets right out of the box. However we've fire 3 more loads with no problem. In over 30 years of shooting muzzleloaders I've never had that happen. Any ideas guys?
Now as to the hunting we struck out. Deer just weren't moving. However I did find this cool 8pt skull with the rack still attatched. I talked to Jason on the radio and when he asked  if I'd seen any deer I told him yeah I got a nice 8pt. He promtly said "Uh Uh I didn't hear you shoot!" I told him yes I did  and I'm standing here looking at it. He knew I was back at the house and wanted to know just how I'd got it there since I was alone. Told him I carried it. Then he told me he knew I was full of it! Soooooo, I bet him a six pack of Michelobe that I 1) had a nice 8pt and 2) carried it back by myself! He took the bet! When he got  back I proptly handed him my 8pt! He said the bet didn't count because I didn't shoot it at which point I promptly reminded him that I never said I did! I only said I got a nice 8pt, carried it back and there young man is your proof!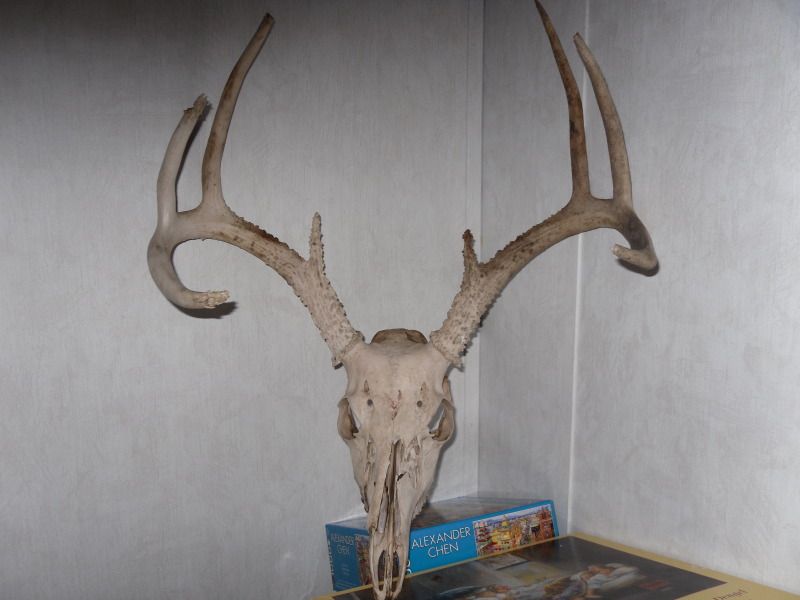 Edited by Spirithawk, 24 December 2012 - 03:54 PM.