I was working in the gun room today and got to noticing all the different lubes I have on the shelf for the purpose of shooting roundball. So I gathered up three of them, some HOME CAST roundball .490 in size, picked out Schuetzen 2f black powder as the fuel, and along with a large chunk of pillow tick, and some swabbing patches.. decided to test the lubes in a head to head.
So looking at the rack of rifles I decided to use a factory rifle. And selected a nice .50 caliber T/C Hawken flintlock rifle as the host rifle. The factory barrel has a 1-48 twist. Making up a target and grabbing the camera and all the gear I headed outside. All shooting was done off the bench, and at 50 yards according to the range finder.
Knowing that this rifle likes 90 grains of Schuetzen black powder I decided to use that for all testing of the lubes and decided to be fair, spit swab between each different lube, but no swabbing between shots.
I only suffered one hang fire.. my fault. As I was concerned the flint was getting dirty and mistakenly wiped it off with olive oil instead of water. Needless to say, that put a damper on the shooting. That would have been the first shot of the olive oil test. While it was still in the group.. could it have been closer? Who knows.
The weather was sunny, blue sky, no wind, and about 70
degrees
. Just a real nice day outside.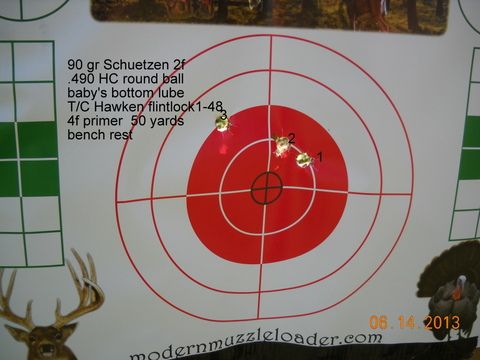 BABY BOTTOM LUBE (a variation of JR Lube)
4
ounces
of Castor Oil * you can buy this in 4 ounce bottles at Wall Mart..
1 ounce of bees wax melted
100 grains of liquid or solid Alox * I like to cut the solid and weigh out what I need Then melt it down.
I use the cheap micro wave dishes ... Glad makes them.. and I melt the beeswax and Alox together after it has been weighed. Once it is liquid and hot.. add the liquid Castor oil and stir that together. It makes an excellent patch and conical lube.
The lube itself looks like something a baby would leave in the bottom of a diaper. I am sure this is due to the bees wax color, but more so to the dark Alox I use. I has a nice "bee" smell and is not effected by the hot sun too bad. A real nice lube for patches and conicals. And it seemed to work real good here today.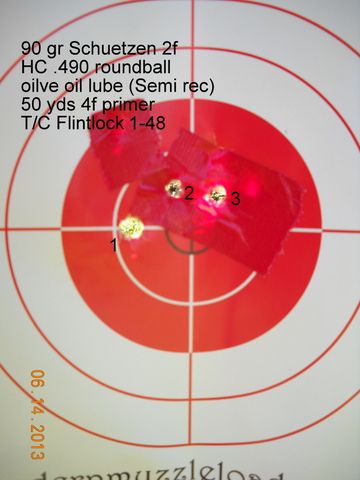 After I discovered the fresh charger batteries did not take a charge, and digging up some
Duracell batteries
, I then covered the shots with red duct tape and shot that group. The olive oil is a combination of olive oil and water. Semisane told me about this. I found if the oil was used straight, it did not like coming out of the pump sprayer. So I added water and that fixed that. As you can see, it did very well today.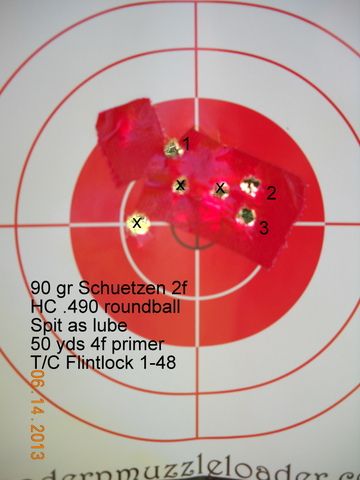 Taking the picture to document the olive oil I discovered I'd forgotten the tape. So back to the table. Then I decided.. lets try spit. Easy to make.. put patch in mouth, saturate with spit, load and shoot. Now remember, I was swabbing with spit every three shots. So this time I used it as a lube. And I X'd out the olive oil hits for you. Not too bad at all for just plain old spit.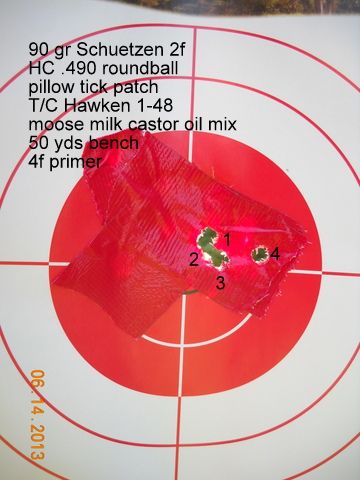 Remembering the camera and tape this time, I prepared the rifle for the final lube test. Now this is my favorite lube.
Moose Milk
A general purpose black powder solvent and liquid patch lube. Shake well before using
Castor Oil 4 oz.
Murphy's Oil Soap 1 oz.
Witch Hazel 4 oz.
Isopropyl Alcohol (91%) 8 oz.
Water (non-chlorinated) 16 oz.
I was spritzing all lubes at the loading table. None of the patches were dry lube.
Needless to say the first three shots had me thrilled. But again, I had a double bag rest system and was really taking my time and using the set trigger. Then I had to try #4. Oh well. Still a good group.
So what group is best? Well IMO the moose milk is still the best for me. With olive oil a close second. If you get a chance, try some of the different lubes you have and see how they compare. But it was a great day to shoot!! And the rifle behaved beautiful...