For the last seven months, I have waited patiently for the arrival of my new friend at the house. I have had some interesting emails sent to me by one individual that will remain unnamed as to whether I was bluffing about this, or not. I just laughed it off and took no offense as I am sure they were kidding. But I am proud to introduce the newest and hopefully the last arrival at the Cayuga collection.

The new friend of course is my custom made .54 caliber rifle from Tennessee Vally Muzzle loading. The rifle is an Early Lancaster Model. It has;


Premium + full length maple wood stock
Chambers lock.
Davis Silver trigger
Colerain Swamped 42" 1-54 roundball twist barrel .54 caliber
German Silver Patch box
German Silver back plate
German Silver Butt Plate
German Silver Nose cap
German Silver Front Sight
German Silver Trigger Guard




kind of hard to get a full length picture of this




I like the looks of the patch box. It really set off the tone of the rifle.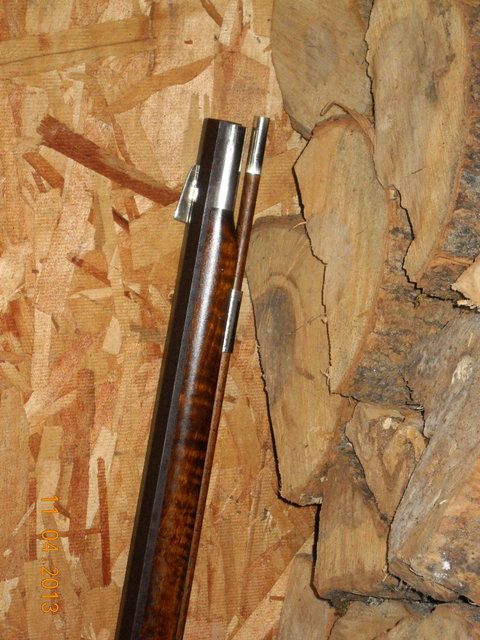 the German silver nose cap and front sight makes a nice look.




German Silver back plate and trigger guard

When I first pulled it out of the box, I was amazed at how light that rifle really was. It felt light then my Lyman Great Plains Rifle Flintlock. I am guessing the swamped barrel has something to do with that. And next, when I shouldered it, with your hand right in front of the trigger guard on the meat of the stock, it balances almost perfect. Again, the swamped barrel I am guessing. The wood is beautiful and the hand rubbed finish is about perfect as I could have wanted.

This last picture really shows the extreme some people will go to.




This is the new shooting house. I built a 25x12 addition on the garage. With a little chain saw work, or I could just shoot it clear, I will be able to shooting from indoors, with a wood stove to keep me toasty in the winter, cleaning tables inside, and all the tools to handle any kind of emergency. Something I always wanted.

The only bad news is I have a cataract on my shooting eye and can not even shoot my new rifle. Can you imagine the frustration of that. Also I have to make an adjustment to my gun rack as due to length, this this will not even fit under the shelf of the rack. But a hole saw
, and a little stain will make a very secure spot for the new arrival.

I have not named the new rifle yet. But any suggestions, I am all ears. And the eye gets fixed this month. I will just have to wait to shoot it. Right?