As some remember, I got a new flintlock muzzleloader last November.  It is a .54 caliber 1-56 twist swamped Colerain Barrel.  The parts were all fitted on a beautiful walnut stock.  With a Chambers lock and Douglas Trigger.  I wanted to shoot it but with eye surgeries, snow, winter, and just nothing making me crazy to shoot.  I have been pretty good.  
But today it was 47 degrees.  The sun was shining, no wind, not snowing...  you could sit outside without a jacket.  It was beautiful.  Just a nice day to SHOOT!
The problem was how to get out over three feet plus (we got 18 inches the other day of new snow) to set up and target to shoot at.  Then I saw it...  a piece of garden fence sticking out of the snow. The back stop of course is yard and yards of very wet snow. To the top of that wooden post is four feet.  I know, I built it.  And there looked like six inches or more sticking out of the snow.  You can just barely see it in the red circle.  The distance to that piece of wood is 32 yards. I checked it with my range finder.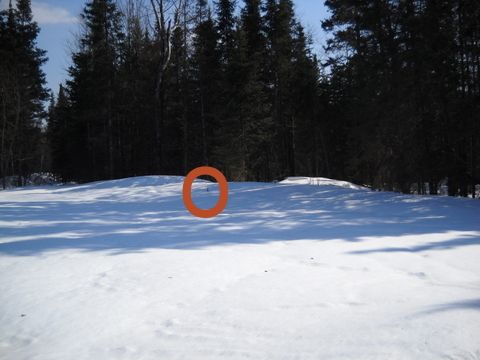 On zoom (there was no way I was walking out there with my bad knees and ankle in that deep if snow)  you can see the small chunk of post.  It is a 2x2 post.
You can also see that the new rifle shoots just a little to the right and high.  I guess I have some front sight that will need to be removed.  I shot three times off my walking sit while sitting in a chair using that stick and my fist, as a rest.  And all three went right into the same area. The balance of that rifle is amazing.  I was shooting 90 grains of 2f Schuetezen Black Powder, moose milk patch and home cast .530 round ball.
I can say that is one sweet trigger on the rifle and the lock is so fast you'd never know it was a flintlock.
So I made an aiming adjustment as to how far left and it was hitting kind of high, so I made the adjustments and shot.  Bang!!  I got it good that time.  I learned how much lower I had to go in the point of aim because if you look on the right top of that stick you can see where it is now notched.  That is from a round ball.  So a little more adjustment was needed. And with a good guess I shot again, aiming under and left of that stick.  Well I must have been good as you can see.
Now that I had the drop and the hold left figured out the rest was easy.  As the picture shows I got kind of into shooting that rifle off that single stick.  Unlike some, off hand shooting is not something I am good at.  But give me a shooting stick, or my walking stick and let me sit down I can get the job done. That red X shows my approximate point of aim.
I know I have to shave and drift a front sight.  But that can come after the snow melts.  And if anyone is worried, the balls shot were going into very deep snow drifts.  From past experience I know how fast snow can stop a round ball.  Also I own all the land behind there all the way to the federal forest.  So safety was addressed.
The new rifle is nice.  But cleaning it, since the barrel does not come off or the vent liner out..  was different.  I know that they say, put a tooth pick in the vent hole and pour your cleaner down there and slosh it back and fourth.  I instead kept running patches soaked in Rusty Duck Black Off until they showed no sign of fouling.  Then I ran dry patches until they were clean and dry.  Then I coated the barrel with Barricade Gun Oil to protect it.
And wiping off if the lick, frizzen, flints, hammer, etc...  done.  I think I can now hold out until the snow melts.