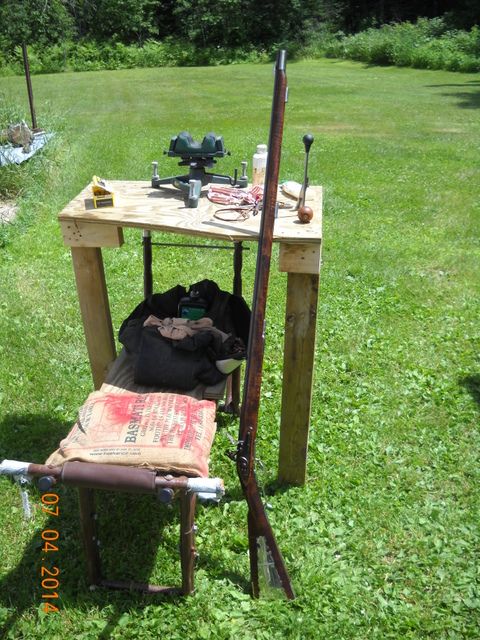 Well it was a beautiful day.  80 degrees, no wind, bright sun, a lots of biting flies that love to attack when the sweat drips into your eyes.
I got out the custom .54 caliber flintlock rifle.  This was made by TVM to my specifications and it sure is a beauty.  I was shooting 90 grains of Schuetzen 2f Black Powder by volume, a moose milk pillow tick patch, and a home cast .530 roundball.  The target was set at 62 yards.  It was kind of neat because it was somewhat hidden in the under growth of the woods,  But I could see it well.  And the german silver front sight showed up perfect in those shadows.
I was doing all but a few shots off the bench.  I tried some free hand.  And actually this swamped barrel helps with free hand shoot a lot.  While not dead accuate, for me it was close.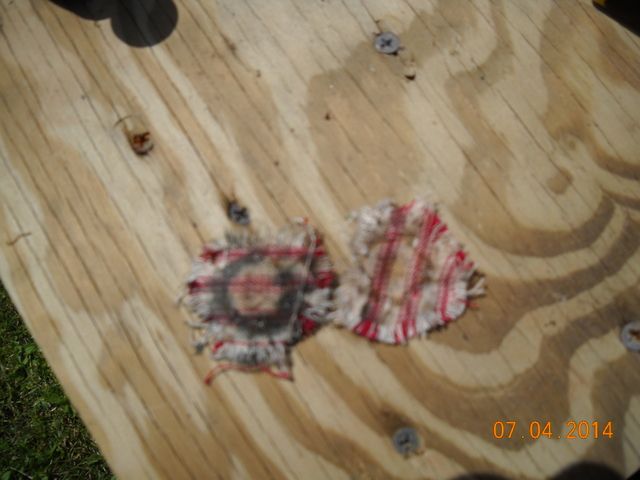 I collected a couple of patches after shooting.  And they looked real good.  Not torn or messed up to bad.  Other then dirty.  I had to swab the rifle after each shot.  I discovered that the last time I shot.  But today I was swabbing with MAP.  Just a light damp patch, run down, then taken out.  The rifle would then sit up and by the time I went and checked the target and stuff, the barrel was ready to load again.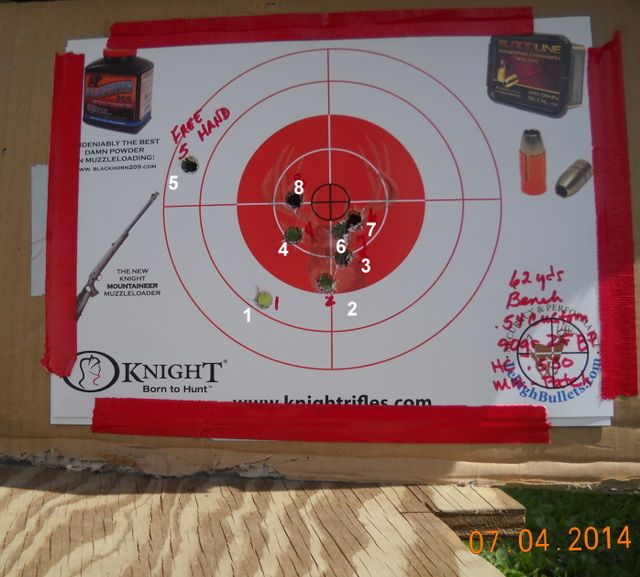 The first shot on the clean barrel kind of surprised me I admit.  Then it started to lay them in the area I expected.  Shot five I tried free hand.  And I think I found the way to shoot this swamped barrel free hand...  do it in a hurry.  The rifle balances beautiful.  And comes to your eye quick.  So I pulled it up, balanced it, and as it made the first pass on the bull, I squeezed off.  Granted I was high and left.  But normally I might not have come anywhere close to that bulls eye.
And being the 4th, something should blow up.  So I set out a 1/2 gallon milk jug filled with water.  When that ball hit that jug, the most perfect shower occurred down range.  I was surprised the shot hit as high as it did.  But a hit is a hit.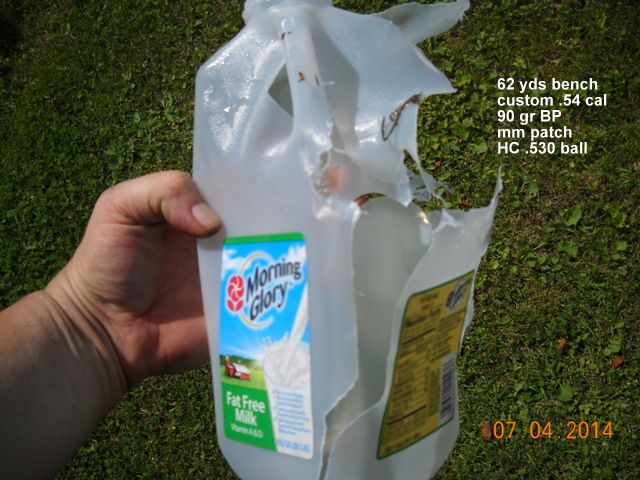 But it was hot out there.  A real sweat maker.  And the bugs learned that sweat washed off the Cutters bug juice and began attacking me.  So I called it a day and came back inside.