A friend called me and told me about his son passing hunters safety.  And all the kid has talked about is deer hunting this year.  He's a good kid.  Well behaved and good in school and at home.  My friend asked me what rifle would be good for him do to his somewhat small size.  I sat and thought about it for a while.  He then asked if I had a rifle the boy could use. I then asked how long his shots would be and he said 50 yards would be the max.  And that they would hunt from blinds.  I then thought of my SKS.
So I was telling him about the SKS 7362x39mm rifle I have.  Its a Norinco brand made in China.  Its pretty accurate with its open sights.  But I decided to throw a scope on the rifle for the boy.  I have a BSA Combat 4x32mm scope around the house.  So I mounted it.  I had also purchased a lot of new ammo for the rifle since when I take the rifle out, ammo seems to disappear in that thing.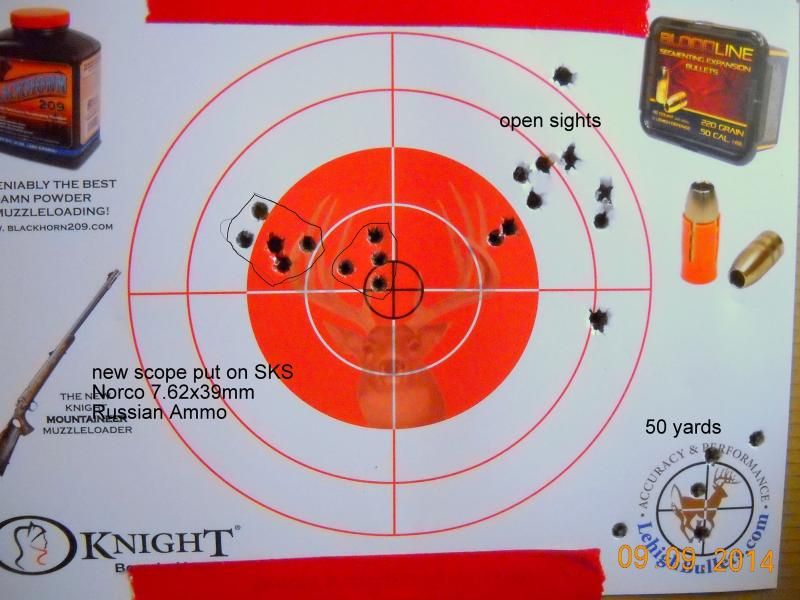 I had some Russian Ammunition, Wolf Ammunition, and Winchester.  The Winchester I do not waste as it is very expensive.  So I grabbed two boxes of the Russian Ammo.
At 25 yards the first group was left, off the paper.  I was shocked. As when I bore sighted the rifle it looked good.  So I made some drastic adjustments and shot a five shot group.  That was still to the left of the bull, so more adjustment.  I then made a four shot group and was kind of pleased with that.
Then I tried the open sights shooting 10 shots.  This was a shock as last year the rifle was dead on with open sights at 25 yards.  With the scope I was close so I backed the rifle out to 50 yards and shot at the lower right corner circle five times.  Now all this is off the bench mind you.
My concerns are the ammunition first off.  Some of them bang real normal.  Then you might get a POW!!  and it threw the case all the way up on the garage roof.  And you could tell by the recoil it had some gas in it.  I am worried about the quality control.
Also is there any way to tune the trigger on these rifles?  Its a long long pull before it breaks.  I would like it a little more crisp.  But if you take your time you can make the rifle work.
Would shooting Wolf Ammunition be a better choice?  the 123 grain hollow point ammo seems good. A friend of mine lets his daughter hunt with his SKS and she shoots deer with it no problem.