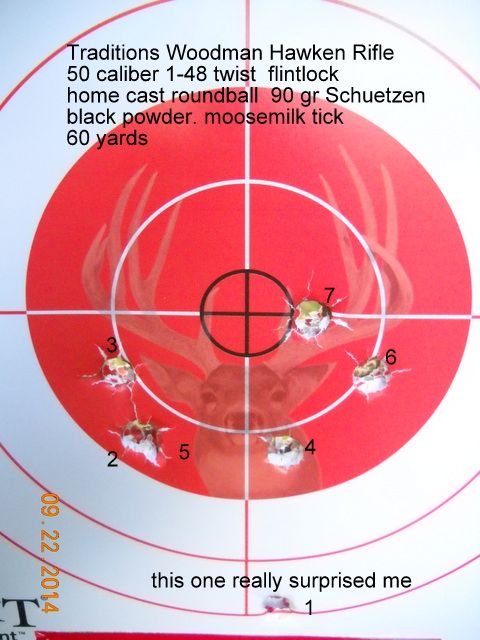 It was a good day I guess. Although I had to leave my rifle range today before I was really ready to go. It started out real good. I had my Traditions Woodsman Hawken Rifle Flintlock all set to go. I was at 60 yards (due to a misjudgment in distance. Actually one reading was 61 yards)
I was loaded with 90 grains of Schuetzen 2f black powder. A brand new can of it. I had a bottle with some home cast roundball .490 size. A long strip of cotton pillow tick cloth, red stripe. And my moose milk. I was set to have fun.
The first shot really surprised me. You see, this rifle when you engage the set trigger, I forgot the front trigger is a real hair trigger and I mean hair trigger. And the ignition is so fast with this rifle, its shocking. So the first shot I kind of pulled you might say.
But I shot until there were no more roundball in the bottle. A total of seven shots. I was not real pleased with the group. I later checked my notes and found the rifle likes 85 grains of black powder. I can't believe 5 grains would have made that kind of spread. But still at 60 yards that would have been a dead deer.
And funny I should say dead deer. I changed targets and rifles. I got out my Remington Genesis. I decided to move the target what I thought was ten yards turned out to be a strong five. So I called it 65 yards. I could have said 66 and been right. I also decided to stick with the black powder and shoot 100 grains of the Schuetzen 2f and some .40 caliber 200 grain blemished Shockwaves in the dark blue sabots. I know this rifle is sighted in at 75 yards with Scorpion 260 grain PT Golds. But I'd shot the little shockwaves in the past and found them accurate.
Prior to shooting the first shot, I was in the rest looking through the scope, trying to get comfortable. And I saw an ear move. You deer hunters know exactly what I mean.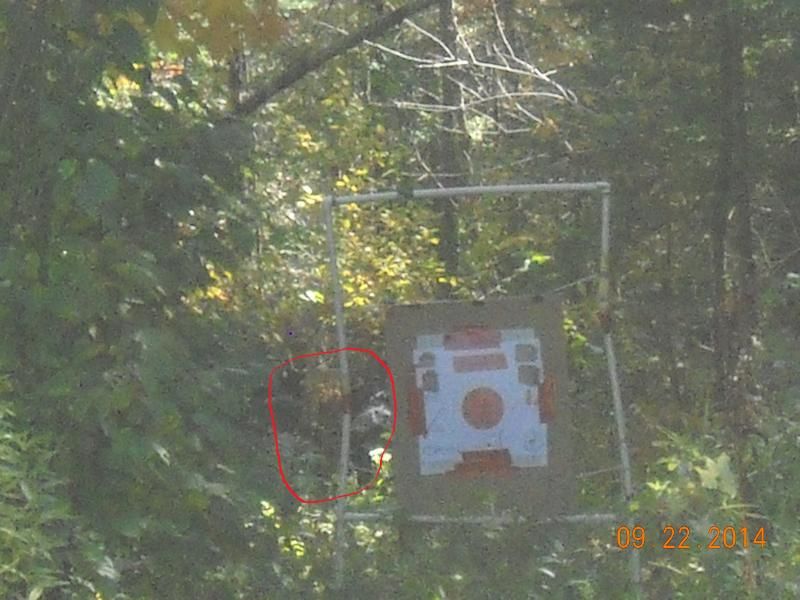 Looking through the Nikon Omega 3-9x40mm scope that sits on the Genesis, sure enough standing five feet behind the target, eating brush, a deer. I know its hard to see here. Actually there are two deer in that picture. For you with the great eyes, look on the right side of the target. Something is looking back at you. Again, hard to see but plain as day in the scope.
So I waited for them to move off. I made noise. But did not really want to shoot as my luck a stray shot would hit one I was not seeing. And it turned out there were three deer back there.
Finally they wandered off. Or so I thought. I even walked back in the woods with my camera of course to double check.
I was standing within fifteen yards, maybe closer to that front deer. The other two were off behind HIM... a nub buck. I stood there and took his picture, even talked to him. But I wanted to shoot!! So I asked them to kindly vacate the property. And they wandered off towards the back marsh. Not in what I would call a real hurry.
Back to the range I went.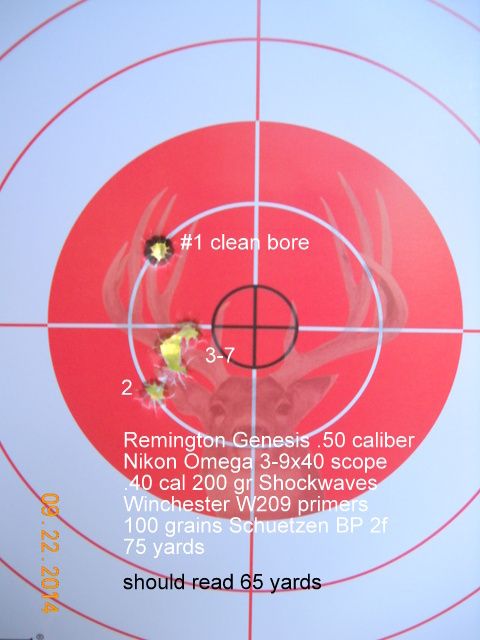 Shot number 1 was a clean bore. And this rifle hates clean bores. Number two after a quick swab with alcohol. Then the alcohol feel over and spilled so the next swabs were with good old fashion spit. Shots 3-7 were great. I was very pleased for 65 yards. I swabbed, loaded, looked through the scope, and there 20 yards behind the target I saw a deer raise its head to eat. Its a good thing the deer (a doe and a big one) stretched her neck up to get a high leaf or I would have shot her. So there I sat with a loaded rifle, but could not shoot.
I looked to the left in the clearing behind the new garage addition and there was the nub buck and his sister, standing with in 30 yards of me, watching me. I decided if they wanted to eat... so be it. 
I just quietly picked up my rifle, ramrod, and gun bag and walked in the house. Inside I removed the breech plug and pushed out the shockwave. I then spent a long time cleaning the two rifle, and happened to look out the patio door... there were all three standing there in the back yard not 20 feet from the patio door eating the grass in the yard.
I might not have gotten to shoot as much as I wanted but I sure enjoyed seeing the deer.